Ntozake Shange: A colored girl for whom the rainbow is not enuf Pt. 2
ZITA ALLEN | 12/8/2016, 11:20 a.m.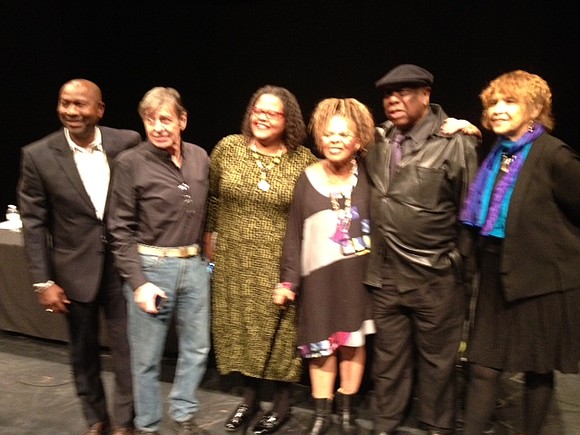 CUNY's Eugene Nesmith moderated the symposium with Dr. Kimberly F. Hall, creator of the Digital Shange Project at Barnard, director Woodie King, Jr., Tony-Award winning actress and Julliard faculty member Trezana Beverley and Shange's longtime editor, Michael Denneny, sharing highlights and insights into the artist and her seminal work. Hall reminded us that even as "For Colored Girls" reflected Shange's "desire to sing a Black girl's song" it also attacked an English language "that denied the relevance of life along the African Diaspora." Instead it replaced it "with something that celebrates our ability to get to the root of ourselves in everything from a well-made pot of greens to a beautiful line of poetry." King pointed out, Shange laid the foundation that playwrights Susan Lori-Parks, Lynn Nottage and even "Hamilton's" Lin-Manuel Miranda and others have built upon. Beverly, who won the Tony for her portrayal of the Lady in Red reminded folks that "For Colored Girls" is in the African American Museum in Washington, D.C.
Taking time out from a hectic schedule, Shange sat in a corner booth of an upper West Side restaurant talking to the Amsterdam News about her life, her work and her legacy. She still exuded the vibrant, indomitable spirit I encountered years ago. Her smile beamed. Her eyes, highlighted by blue/green shadow, twinkled. The loose ends of her colorful braided hair framed either side of her face. Multicolored African bracelets encircled her wrists. Her joyful, high-pitched laughter shattered the restaurant's din. A nearby walker and a fork held at an unusual angle hinted at the strokes and neurological disorder she has had to grappled with these past few years.
I asked if she had any inkling at the time that her landmark choreopoem was breaking new ground. "No," she said, "I came from the poetry world and what I was doing seemed organic. I was accustomed to working with musicians and to working with dancers because I was one." So, it was only natural to think "the nonverbal plus in the words would expand the meaning of the poetry."
Shange recalled the joy of working on improvisations in classes with dancer/choreographer Dianne McIntyre, whose "Sounds in Motion" company studio was, at the time, located in the heart of Harlem. "Dianne doesn't count, so you have to feel the people around you to know when movement will happen," Shange explained. "She also depends on the breath as music, so the sound came out of our bodies and it was like a chord from the piano that let us know what to do. It was very exciting." Later Shange and McIntyre collaborated on a few productions, including her play, "Spell #7."
Eleo Pomare was another dancer/choreographer who had an impact. "Eleo's warmups challenged the body, so they were almost like dancing," Shange said. "You had to be fully involved. Your body had to do things you weren't expecting to have to do right away. Also, the dances we did after the warmups used the same muscles so that the class became a whole experience. There wasn't really separation between warmup and movement."