Mass shooter Dylann Roof, with a laugh, confesses 'I did it"
Ray Sanchez and Keith O'Shea, CNN | 12/9/2016, 3:59 p.m.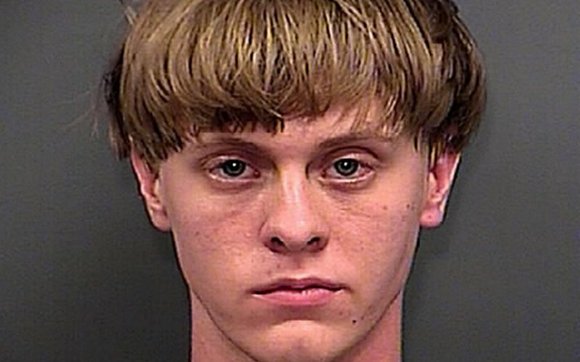 (CNN) -- Dylann Roof confessed almost immediately to the massacre at Emanuel African Methodist Episcopal Church, according to an FBI video shown Friday at his murder trial in Charleston, South Carolina.
"I went to that church in Charleston and I did it," he said with a laugh.
"Did you shoot them?" a law enforcement officer asked.
"Yes," Roof replied matter-of-factly, with another laugh.
Asked how many people he killed that day, the young man in the mushroom-shaped haircut calmly replied: "If I was going to guess, 5 maybe. I'm really not sure."
In the video, Roof said he opened fire with a Glock .45-caliber pistol.
He fired 70 rounds that night in June 2015. A dozen people had stood to offer prayers at the bible study, with their eyes closed, prosecutors said. Nine were killed.
"I didn't say anything to them," Roof said of his victims.
What about after the shootings?
"I didn't talk to them."
Roof admitted in the video sitting with his victims about 15 minutes.
"It was a bible study," he said.
He had seven magazines with him, he told investigators. A bag and his weapon.
"I was sitting there thinking if I should do it or not for 15 minutes," Roof said, according to the video. "I could have walked out. I don't want to say it was spur of the moment."
In the video, Roof is seen sitting at a circular table at the Shelby, North Carolina, police department. He occasionally gestures with his hands but his voice -- deep and monotone -- betrays no emotion. The sun hits the camera lens, partly washing out the young man's face.
"Somebody had to do it," Roof said of the slayings. He added that "black people are killing white people everyday... What I did is so miniscule compared to what they do to white people every day."
He acted alone after researching the city and the church.
'Our people are superior,' Roof told investigators
"I like Charleston," he said in the video. "It's historic too, you know. I think at one time it had the highest ratio of blacks to white during slavery, and AME is a historic church. I researched black churches."
After sketching out the massacre scene for investigators, Roof said he emptied out seven magazines. His victims cowered under tables, he recalled. No one tried to escape.
"It was pop, pop, pop," he said, adding that he was didn't shoot a woman who was looking at him.
Roof said he was "in absolute awe" that police weren't waiting outside when he left the building.
At one point, Roof said what he did was "political" and that he considered himself "a white supremacist."
"Our people are superior," he said. "That's just the fact."
His views on race were awakened by the Trayvon Martin case in Florida, he said. He talked about Muslims overrunning parts of Europe. He said he supported Hitler.
Asked by an investigator if his crime made him feel "glad," Roof said: "I had to do it. I wouldn't say I was glad."