Black community shocked by Michael Slager mistrial
By Lauren Victoria Burke (NNPA Newswire Contributor) | 12/12/2016, 1:16 p.m.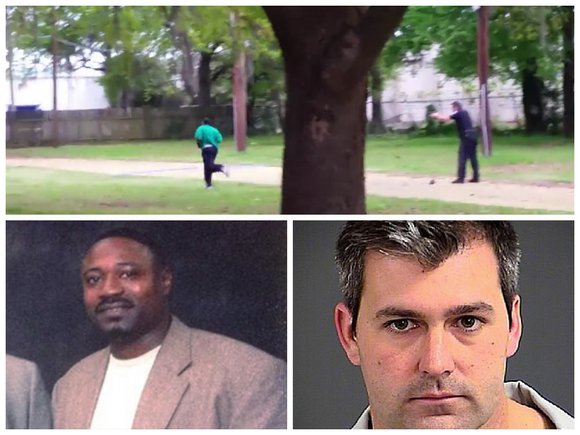 Last week, the nation was shocked to learn that the jury for the trial of Michael Slager, the North Charleston police officer who shot and killed an unarmed Black motorist as he jogged away from a traffic stop in 2015, could not agree on a murder or manslaughter conviction or any punishment for the officer.
"I don't have anything new to say," tweeted Deray Mckesson, a prominent activist associated with the Black Lives Matter movement. "I mean, we have a video of an execution and planting evidence and even that's not enough."
After a brief struggle off-camera, a passerby recorded Slager, shooting Walter Scott in the back from nearly 20 feet away. Then Slager walked back to where the initial struggle took place and picked up what looked like a Taser. Slager then returned to Scott's body and dropped the Taser, contradicting his initial police report.
Mckesson, who gained national attention in 2014 for his social media presence and citizen reporting in the aftermath of the shooting death of Michael Brown, an unarmed Black teenager in Ferguson, Missouri, was not the only person who expressed disbelief on Twitter.
Ta-Nehisi Coates, the author of "Between the World and Me" and a national correspondent for "The Atlantic," commented about the Charleston County chief prosecutor's opening statement, where she "acknowledged from the beginning of the trial that she thought Mr. Scott had contributed to his own death by running away," according to "The New York Times."
"Re: Walter Scott. When DA sounds like the defense, can't really be surprised by a mistrial. This is incredible," Coates tweeted.
During an interview last week on the "Today" show, Dorsey Montgomery II, the jury foreman from the Slager trial, said that several jurors had doubts about convicting the former police officer.
"Initially it was going to be murder," Montgomery said. Then jurors requested additional information about the evidence presented in the case and about the possible charges and "the things that were presented to us by the judged, we had come to find out he didn't do anything malicious."
Since the 2014 murder of Eric Garner in Staten Island, N.Y, dozens of videos have surfaced showing violent, sometimes fatal, interactions between police and Black men and women. The ease of use of video technology in the information age has brought into public view a problem that has for decades been ignored and dismissed by mainstream media and White society at large: police brutality in the Black community.
Despite the brutal visual evidence, the American police uniform has consistently shielded officers who commit murder from prosecution.
The case of Tamir Rice in Cleveland, Ohio, Philando Castile in Falcon Heights, Minn., and John Crawford in Beavercreek, Ohio, are only a few examples of police shootings caught on camera, where the officers involved escaped murder convictions.
The mistrial in the Scott case comes on the 61st anniversary of the Montgomery Bus Boycott, which started on December 5, 1955. The boycott began four days after Rosa Parks refused to give up her seat to a White man on a Montgomery bus. For doing so, she was arrested and fined. The boycott lasted 381 days and a decision in a case that went before the United States Supreme Court forced Montgomery to integrate it's public bus system.
Months before the Montgomery Bus Boycott in late August 1955, Emmett Till was murdered in Money, Mississippi at the age of 14. Till was beaten, tortured and mutilated by two White men, Roy Bryant and J.W. Milam. Both men were acquitted in Till's murder by an all-White jury and some would suggest that police officers are given the same preferential treatment by the criminal justice system today.
Civil rights leaders have suggested that it will take the same type of sustained economic pressure of the Montgomery Bus Boycott to force real reform in the criminal justice system.
During a press conference following the announcement of the mistrial, Judy Scott, Walter Scott's mother said that, "justice will be served, because the God that I serve is able. Injustice will not prevail."
Scott continued: "It's not over. [God] will get his just reward."
Lauren Victoria Burke is a writer and political analyst. Lauren is a frequent contributor to BlackPressUSA.com and the NNPA Newswire, the news service of the National Newspaper Publishers Association. She can be contacted at LBurke007@gmail.com and on twitter at @LVBurke.