Six tips for stress-free holiday travel
Megan Pinckney | 12/15/2016, 1:50 p.m.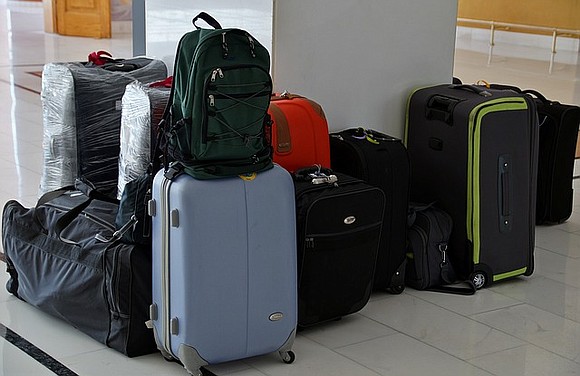 Tip 4: Fight your urge to use bags
I'm pretty OCD when it comes to organization. I don't like messes or for things to be sloppy, so understand when I say this tip is a constant struggle even for me. Too many bags inside your luggage will take up precious space that you have to be willing to give up. Granted, something things need small bags. My makeup is always in a small bag because I'm not going to chance a catastrophe just to save a little space. My toiletries are also usually in a bag. I say "usually" because there have been times when I truly needed that extra space, so I threw the liquids in a Ziploc bag and wrapped other things (such as my toothbrush and soap holder) in a T-shirt I was already planning on taking. My hair products and tools are things that start off in a small bag, but usually end up packed in the crevices of other things. In that case, I throw my liquid products in with my toiletries, wrap the other things in clothes/tuck them next to my shoes and keep it moving. The goal here? NO DEAD SPACE! Fill space with things you need to pack.
Tip 5: Only bring one pair of heels (two max)
I know this one sucks. Trust me, I know. But this tip helps in two ways. First, heels take up so much space. One pair is ideal; two pairs you can work around. Second, cutting your shoe game down to just one or two pairs helps keep your wardrobe choices to a definite color palette. That alone will help cut down on excess clothing and accessories.
Pro tip: Always pack shoes in shoe bags; having the bottoms of your shoes touch your clean clothes or any of the other things you have floating in your bag is actually pretty gross if you think about it.
Tip 6: Use your one personal item for extra space
This tip is what sets the seasoned travelers apart from the people who travel a few times a year. Every airline allows one bag and one personal item. They define the personal item as a purse, laptop bag or baby bag. However, if you're smart you can use this personal item as extra space. The key is getting the perfect-sized personal item. It has to be large enough to hold your purse along with other random items but must be small enough not to have attention brought to it. If your suitcase has a spot for a hook, buy one so you can latch your bag onto your suitcase. That way, when you're in a hurry, you can just attach it and go. Note: Being a good flyer means you're a considerate flyer, and you should keep this bag at your feet (like they ask you to), especially if you are on a completely full flight. But, if there's room in my overhead bin I'll stick it up there. Shhh!
Megan Pinckney (@shadesofpinck) is a retired beauty queen turned lifestyle blogger who loves exploring the world and writing about it.