South Sudanese activists warn of nation's 'catastrophic collapse'
12/15/2016, 11:24 a.m.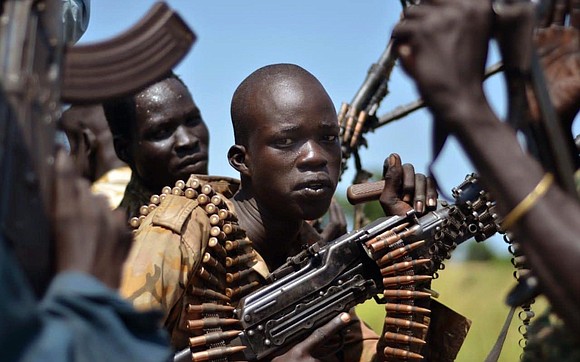 (GIN)—South Sudanese human rights activists are turning to open letters and opinion pieces to plead for intervention in the newly independent East African nation that appears in danger of imminent collapse because of a brutal and endless war.
"Ending the conflict will require more political courage than simply adopting a U.N. resolution," wrote Peter Biar Ajak, senior adviser at the International Growth Centre on South Sudan, and Kuoth Wiel, a South Sudanese model, actress, gender and women's rights activist.
Wiel also heads up the Nyaeden Foundation, which aims to empower women in war-torn African countries. Ajak is also the director of the Centre for Strategic Analysis and Research based in Juba.
They described how South Sudanese have been living in a nightmare with no apparent exit since the conflict broke out in December 2013.
They wrote, "In July, less than three months after forming a government of national unity, the leaders of South Sudan plunged the country back to war. The conflict has led to ethnically targeted mass killings, rapes, torture, forced displacement, destruction of property and intense suffering. Yet, we fear the worst is yet to come."
Further, they wrote, "In recent months, extremely disturbing rhetoric has become commonplace. Leaders of South Sudan, from the various political divides, preach ethnic animosity, revenge and counter-revenge. Radical youth groups threaten to kill members of other ethnic groups, if they do not leave their regions."
This horrifying picture was confirmed at a summit of East African leaders in Addis Ababa this month. The leaders condemned in the strongest terms the reported systematic targeting, killings and forced displacement of civilians and destruction of property by armed men in South Sudan.
The summit was chaired by Ethiopian Prime Minister Hailemariam Dessalegn and attended by the heads of state of Sudan, Djibouti, South Sudan and Somalia, and the foreign ministers of Kenya and Uganda.
Biar Atem, a South Sudanese "lost boy" and a board member of the South Sudan Center of America, shared a similar fear.
"Not acting in South Sudan, as genocide looms, will be a moral litmus test not only of [President-elect Donald] Trump's leadership but indeed of the nation's," said Atem. "If 'make America great again' doesn't include opposition to genocide, then what values define our greatness?"
The Washington Post stated, "The U.N. Security Council, the United States and the rest of the world must find a way to confront these atrocities and stop the downward spiral of South Sudan." 
GHANA PICKS NEW LEADER WHO PROMISES JOBS, JOBS, JOBS
(GIN)—In a surprise upset for incumbent President John Dramani Mahama, voters turned out strongly for opposition candidate Nana Akufo-Addo, whose campaign for the presidency gave hope to thousands of jobless Ghanaians.
Akufo-Addo earned 54 percent of the vote, and Mahama took 44 percent. It was the first time in Ghana that an opposition candidate defeated an incumbent president at the ballot box.
"There must be jobs in our country," Akufo-Addo declared. "That means big investments in viable industries and boosting our agriculture productivity." He added that he is also committed to delivering on a pledge, made five years ago, to ensure that all Ghanaians would have access to free secondary education.