Special holiday events at The Met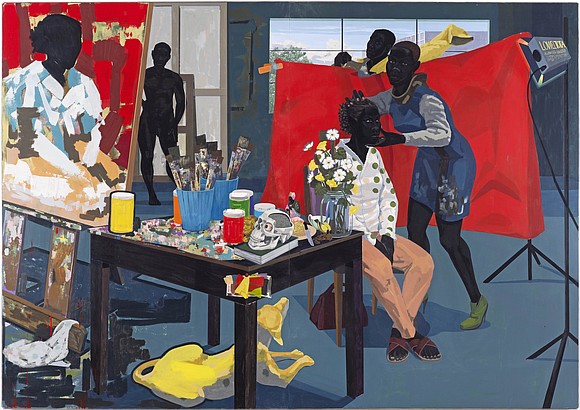 Inspired by "Kerry James Marshall: Mastry," there are several special conversations and events happening now at The Metropolitan Museum of Art. The Marshall Exhibit is currently on view through Jan. 29, 2017, at The Met Breurer. Discussions during the exhibition celebrate the major themes in the show as well as Marshall's artistry.
Thursday, Dec. 15, there's "An Evening with Kerry James Marshall." Meet the artist himself and have a conversation with him about his work. The artist will be joined by William C. Rhoden. This event will start at 6:30 p.m. at the Gracie Rainy Rogers Auditorium. Space is limited and the talk will also be streamed on The Met's Facebook page. Saturday, Jan. 26, there will be an all-day symposium from 11 a.m. to 6 p.m. in the Grace Rainy Rogers Auditorium. Compelling talks will explore the ideas, practice and content in the work by Marshall. Check out The Met's website for more holiday events.
"It is with enormous pride that we present this important examination of Kerry James Marshall's work at The Met Breuer," commented Thomas P. Campbell, director and CEO of The Metropolitan Museum of Art. "With our collection spanning over 5,000 years, The Met is uniquely positioned to highlight Marshall's deep connection to history." The exhibit includes 72 paintings. Running concurrently, "Kerry James Marshall Selects," curated by the artist, is also on exhibit. Marshall draws some 40 works from The Met collection, the range is from the Northern Renaissance to French post-expressionism, and from African masks to American photography of the 1950s and 60s.
The exhibition's title plays on the words that refer to Marshall's comics-inspired "Rhythm Mastr" series, and the works that are included from the early and iconic works—such as "A Portrait of the Artist as a Shadow of His Former Self" (1980) and "Invisible Man" (1986)—to his newest revisions of traditional history painting. One of these recent works, "Untitled (Studio)" (2014), a monumental picture depicting an artist's workspace, was recently acquired by The Met. The exhibition also reunites the five paintings of Marshall's "Garden Project" series. In this group of pictures, the artist shows scenes from the mid-1900s that serve to complicate the idea of public housing as bleak and desolate—for the first time in 20 years.
Born in Birmingham, Ala., before the passing of the Civil Rights Act and witness to the Watts rebellion in 1965, Marshall has always chronicled the African-American experiences with great imagination. He is known for his largescale narrative history paintings that feature Black images. In his work, this artist critically examines and reworks the Western landscapes, genre painting and portraiture. Marshall's work also touches on vernacular forms, such as the muralist tradition and the comic book. He addresses and corrects, in his words, the "vacuum in the image bank.
" He makes the invisible visible.