Alain Leroy Locke, philosopher and Harlem Renaissance giant
Herb Boyd | 12/29/2016, 10:26 a.m.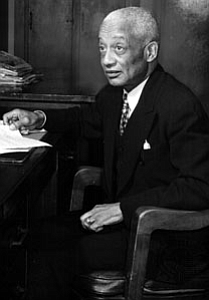 Alain Leroy Locke is perhaps best known as the editor of "The New Negro," an anthology that is widely viewed as the touchstone of the Harlem Renaissance. In many biographies, Locke is considered the "dean" of this historic era.
Whether he warranted this rank or not, there is no disputing his prominence in the realm of Black social and political thought during his lifetime. Almost from the beginning of his academic career his brilliance was apparent, much of which can be attributed to his parents, both highly educated middle-class professionals in Philadelphia.
There is some dispute, though, about when Locke was born. Most biographies list his birth as Sept. 13, 1886, including such leading authorities as Bruce Kellner. But a noted researcher discovered that Locke was actually born in 1885. Christopher Buck offered a firsthand account of why Locke changed the date, citing that "he may have wanted to avoid the embarrassment of having future biographies discover that he was registered as white on his birth certificate."
Esteemed scholar David Levering Lewis, in his engrossing "When Harlem Was in Vogue," provides another aperture to issues of color in Locke's life in his discussion of Locke's grandmother. Lewis wrote that one of Locke's earliest memories "was his grandmother hanging clothes on the line in a broad bonnet and long white gloves, lest the summer sun darken her light skin, and turning to scold him for playing outdoors when he was already much too dark."
Obviously, none of her admonitions dissuaded Locke from his determination to be the doyen of African-American culture, a pursuit that was clearly established after leaving Central High School and distinguishing himself as a student at Harvard University.
In 1907, he graduated magna cum laude with Phi Beta Kappa key and subsequently became the first Afro-American Rhodes scholar. His three-year stay in Europe included study in Germany and France. Upon his return, he served as an assistant professor of philosophy and education at Howard University. He obtained his Ph.D. in philosophy from Harvard in 1918 and returned to Howard to teach and to chair the philosophy department, a post he would hold until 1953.
Locke's academic acclaim, however, was subsumed by his journalism and editorial successes, and in 1925 when he was invited to edit a special edition about Black America for Survey Graphic, a leading white publication, it was the springboard that vaulted him to the pinnacle of literary recognition. He sliced and spliced the articles from an ensemble of noted African-American artists into "The New Negro," which, more or less, announced the arrival of the Harlem Renaissance that, in fact, had been in formation at least three or four years before.
The introduction Locke wrote for the special edition in Survey Graphic was retained for the anthology, including his premise on the role of culture in Black attainment and acquiring white appreciation. "If in our lifetime the Negro should not be able to celebrate his full initiation into American democracy, he can at least, on the warrant of these things, celebrate the attainment of a significant and satisfying new phase of group development, and with it a spiritual Coming of Age," he concluded.