Casual elegance spring for day to evening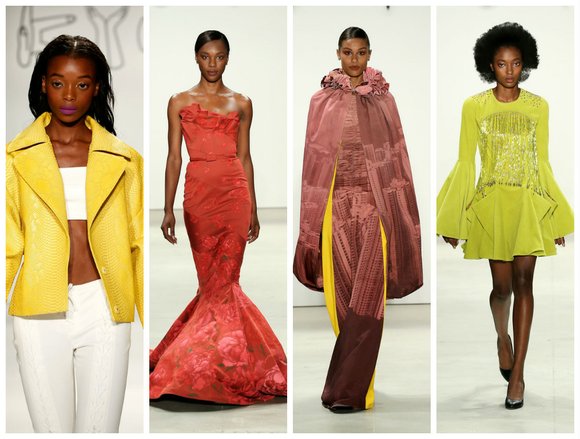 Supima, America's luxury cotton company, offers a line that designates an elite brand of pima cotton. Their collection of beautiful gowns and dresses show its value, luster and softness. Many of their looks were selected from a group of talented emerging designers who gained tremendous exposure in this New York Fashion Week show. The presentation was modeled on the legendary 1954 Wool Secretariat competition that launched the careers of the then-teenage Yves St. Laurent and Karl Lagerfeld.
At the KYE show, sportswear took the lead. Designer Kathleen Hanhee Kye fused wit, humor and fun into her collection. Her strength shows in the collection's funky, yet high-end streetwear vibe. The designer is known for her uniquely styled looks.
While designing, she tries to bring attention to today's social problems. Often, her jackets are enhanced with artistic motifs. Kye is striving to leave her mark on the history of fashion by engaging in an array of fashion forward activities, including designing for her label and offering unique interpretations of fashion as a stylist. She shares her ideas in TV programs and while collaborating with international fashion brands.
On the runway, there were pretty knits, slim tapered skirts, abstract print longer skirts and tunic-style sweaters with knit caps to match. Leather jackets in bold colors stand out over leather pants and bandeau tops. Big sunglasses in geometric shapes were the perfect accessories for many outfits.
Stella Nolasco's charming designs are modern, stylish and edgy for Fashion Week. Her clothes show off her metropolitan sensibility. She has worked hard to earn a reputation as Puerto Rico's most avant-garde designer. Nolasco's fashions exude both vintage nostalgia and sophistication. The evening looks are bare, often beautifully beaded, sheer and fitted. There are short and long styles. Nolasco holds a bachelor's degree from Drexel University in Philadelphia. She was chosen to participate in the fashion program at the acclaimed SACI School of Art in Italy. Stella is a household name in Puerto Rico, where her work receives rave reviews. Good shows!