De Blasio reaches tentative agreement with traffic enforcement agents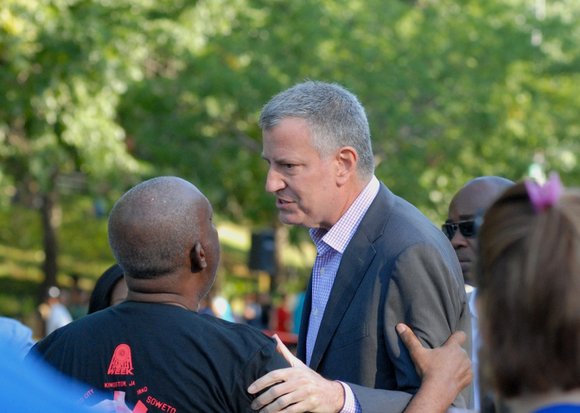 Amsterdam News Staff
New York City Mayor Bill de Blasio now has agreements with 95 percent of the workforce. Last week, the mayor announced a tentative contract agreement between the city and the Communication Workers of America Local 1182 Traffic Enforcement Agents, including both level one traffic enforcement agents (who write summonses) and level two traffic enforcement agents (who direct traffic).
The proposed contract covers more than seven years and includes a 10 percent raise (including a 3 percent increase starting Sept. 10) and a one-time $1,000 ratification bonus. The contract retroactively began March 10, 2010, and expires Dec. 30, 2017. The agreement covers more than 2,100 agents.
"I am thrilled that a landmark tentative agreement has been reached between New York City and traffic enforcement agents," said CWA Local 1182 President Syed Rahim in a statement.
"This contract builds the foundation to adequately compensate my members, who contribute so much toward the greatness of this city."
"We are very pleased that we've reached a breakthrough contract settlement with New York City covering over 2,100 traffic agents who belong to CWA Local 1182," added Dennis Trainor, vice president for CWA District One, in a statement. "The agreement will provide these members with a new, more equitable salary structure. We are wholeheartedly recommending this contract to the members and appreciate the hard work by both sides to bargain a fair agreement."
"Our traffic enforcement agents keep our roads moving and our pedestrians, bikers and drivers safe," stated de Blasio. "This agreement means they'll get the fair wages they deserve while protecting New York City's fiscal health. With 95 percent of our workforce under contract agreement, compared to zero percent when we took office, we're continuing to restore a productive and respectful relationship with the men and women who serve our city."