Ramarley Graham's parents demand justice after four years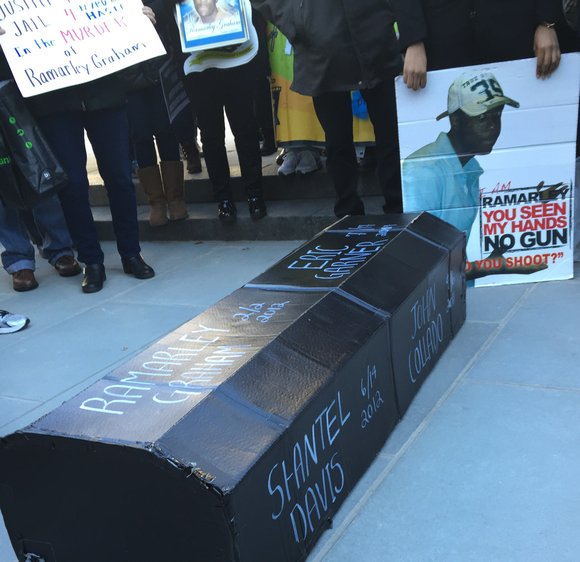 Special to the AmNews
It started with an unarmed Black teen being chased by NYPD officer Richard Haste into his grandmother's bathroom. The white cop said the 18-year-old had a gun. It ended with the Bronx teen being shot in the chest. He later died at the hospital. No weapon was ever found.
This chronicle was played out four years ago this week, leaving relatives and friends demanding police accountability four years later.
The teen's family and hundreds of supporters held an all-night vigil Tuesday night outside the U.S. Department of Justice office in lower Manhattan, urging U.S. Attorney for the Southern District of New York Preet Bharara, to prosecute the officers responsible for Graham's death in February 2012.
"We are here to let Preet Bharara know that we aren't going anywhere," Graham's mother, Constance Malcolm, told a diverse crowd of supporters as they stood shoulder-to-shoulder in the near-freezing temperature. "We're not going to give up. I always tell my kids to fight for what they believe in, and if I give up, I would be lying. I'm going to fight until the end of my life until we get answers to get these officers prosecuted for the crime they committed."
Malcolm said it's unacceptable that four years after her son's death, the DOJ has yet to take action. "We're not going to let them win!" she exclaimed.
On Feb. 2, 2012, Haste chased Graham into his home after saying that the teen was "acting suspicious" and he had a gun. Investigators said they found no weapon at the scene. Graham's grandmother and 6-year-old brother were both said to have been home when Graham was shot in the chest. He was rushed to the Montefiore Medical Center, where he later died.
The Bronx District Attorney's office initially indicted the officer on manslaughter charges, but a judge dismissed the case after determining that there was a technicality, and "misinformation" was given to the grand jurors. A new grand jury decided not to re-indict the officer, which prompted the family to seek federal intervention.
"We need justice," said Franclot Graham, the teen's father, who was flanked by supporters and elected officials at a rally on the steps of City Hall Tuesday afternoon. "We need it to start now. No more prolonging in this case. Enough is enough."
After the rally, Graham and Malcolm hand-delivered a letter to Mayor Bill de Blasio and first lady Chirlane McCray. They wrote that city has waited too long to fire Haste and urged the mayor to remove the officers responsible for their son's death from the NYPD.
"Four years have passed, and there has been no explanation, no justice, no morality and thus no sense of legitimacy," the letter reads. "Ramarley's killing did not occur during your tenure in City Hall, but the continued employment of officer Haste and other officers within the Police Department is within the authority of your administration. It is our understanding that officer Haste has received nearly $25,000 in pay raises since shooting Ramarley. That is horrific and unacceptable."