Straight A's for "School of Rock" on Broadway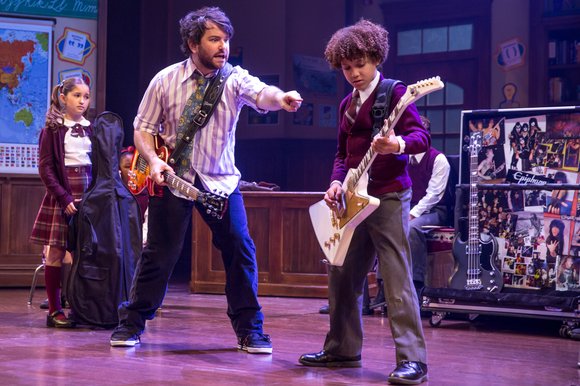 "School of Rock—The Musical" is a high-octane performance! The rock music in this production is off the charts. It is stupendous to experience. The Winter Garden Theatre needs to be your next theatrical destination, so you can rock-out with this superbly talented cast of youth and adults. Based on the Paramount movie, "The School of Rock" written by Mike White, the musical features a book by Julian Fellowes, lyrics by Glenn Slater and music and orchestration by Andrew Lloyd Webber. That's right, music and orchestration by Andrew Lloyd Webber, composer of "The Phantom of the Opera." Looking at the creative team alone you know that you are in for a treat.
Alex Brightman stars as Dewey, a man who started a rock band, only to be kicked out by the other members. He is a man without a job who needs money to pay rent to a couple he is living with, and he is trying to find a new band home to enter into the Battle of the Bands contest, which is the most important goal in his existence. Brightman portrays Dewey with an energy and focus that are inspiring and funny. Dewey has unbridled energy, a love of rock music and an attitude of "Stick It to the Man," that he shares with a class of students at the prep school where he is hired as a substitute teacher.
The prep school principle, Rosalie, is played by former "Phantom of the Opera" star Sierra Boggess, and she is well cast in the role. She seems to have a lot of fun with it and she and Brightman have a wonderful connection on stage. Dewey lives with his best friend and former band member, Ned, and Ned's girlfriend, Patty. Although Ned, played by Spencer Moses, is trying to convince Dewey to get a job and pay rent, he also likes to jam with Dewey on "Guitar Hero." Patty, played by Mamie Parris, is completely annoyed with Dewey's irresponsible lifestyle and constantly nags him about it.
One of the features I love about this musical is how many young cast members it has. The students from the prep school are portrayed by an immensely talented cast of young people. Four of the students are portrayed by African-American youth, three of whom are making their Broadway debuts. Bobbi MacKenzie plays Tomika and makes a stunning debut with a huge, fantastic voice. Brandon Niederauer plays Zack and gives a memorable performance of a boy who is struggling to please his father. Taylor Caldwell is Shonelle and is wonderful to watch. The fourth youngster is Shahadi Wright Joseph, who plays Madison and does an impressive job. These young people are all performers to be watched in the future, because they should go far with their talents. Adult cast member Alan H. Green also shows a great deal of versatility as he handles various roles as an ensemble member.
"School of Rock" will have you singing, clapping and on your feet. You will cheer for this fun, rock 'n roll music packed production. "School of Rock" kicks a--! If you have youngsters in your life, they will love "School of Rock." I'm sure they and you will grade it "straight A's!"