NY activists respond to Beyonce tribute to the Panthers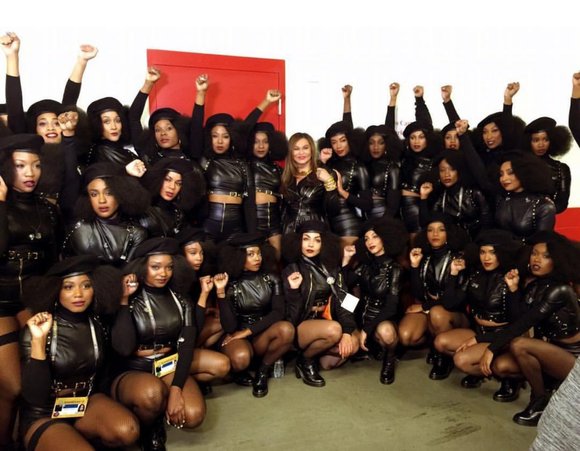 The only trending issue matching the post-Superbowl 50 "We still support Cam Newton" social media storm is the debate surrounding Beyonce's big "Formation Show" nod to the 50th anniversary of the founding of the original Black Panther Party for Self-Defense.
While former New York Mayor Rudolph Giuliani trips over himself on Fox News slamming the Black empowerment stylings as anti-police, the Black community comes down on both sides, supporting the effort or questioning the delivery.
"The Black Panther Party has always said, 'We should use our culture as weapon for our liberation,'"
said Zulu Nation King Sadiki "Bro Shep" Ojore Olugbala, NYS Chapter of the Black Panther Party veteran. "Fast forward today as the director for Universal Zulu Nation Community Affairs Department, we pass on that Panther legacy in our own 2016 motto of 'Continuing 43 years of grassroots community organizing through True Skool Hip-Hop Culture.' So big ups to Sister Beyonce and her dancers for doing what they do best in order to pay a Black History Month tribute to the 50th anniversary of the Black Panther Party on the world stage known as the Super Bowl."
"Beyonce's Black Power presentation was just what the Super Bowl needed," said Assemblyman Charles Barron. The Brooklyn-based assemblyman, who noted that he "will always a Black Panther in his heart," told the Amsterdam News, "Now I hope that this translates into a deeper and longer commitment to our movement for liberation. And I hope that other artists follow suit, and not only make political statements in this entertainment industry, but just as Beyonce immediately announced that she was donating water to Flint, Michigan with her #Be Good initiative, I hope that others make efforts to seriously fund the inner cities and our movement to get our people out of poverty and unemployment. Right on Beyonce! Long live the Black Panther Party!"
As images flood the internet and broadcast television, some activists take issue with the presentation.
"I did not like the so-called tribute because it was disrespectful to what the Panthers stood for," said Caleef Cousar, founder of the New York Chapter of the New Black Panther Party for Self-Defense, which is preparing to honor the 15th year of the Feb. 17 transition of their co-founder, Dr. Khalid Abdul Muhammad. "Panthers were about defending the Black community against police and Ku Klux Klan violence against our community. But they also started breakfast and feeding the community programs. They defended our right to defend ourselves, and made it understood that they were not about to allow attacks go unaddressed. This so-called tribute sends a very much watered down revisionist history for this generation. But Beyonce does not have knowledge of self, so there is only so much that we can expect from her."
Cousar, who served under Muhammad, added, "The sisters of the original Black Panther Party were conscious, and they always rolled with self-respect and dignity, they were nothing to take for granted. They were trained, played their position and understood the principles and philosophy of 'The Movement.'"
The debate rages on as people replay the video of Beyonce, wearing a Michael Jackson-inspired shiny military-style jacket, a leotard-style bottom and fishnets, and her dancers with stylish afros wearing berets cocked to the side and leather short-shorts, creating the X formation. The song "Formation" ripped through the music sales, and accumulating massive views was the accompanying video, with a child making cops raise their hands as Beyonce implores police to stop shooting Black people.
Right-wing talking heads blew a gasket as they railed against the "anti-police" video. Black activists and cultural observers explained at great length on all media—social and traditional—that asking cops to stop killing people in this current volatile police/community climate was socially responsible, not destructive.
Yet, many political, social and cultural observers continue to critique the Super Bowl halftime performance, which also featured the British group Coldplay and uptown funking Bruno Mars.
Cousar continued, "I have two daughters, and I ask myself what kind of message do they receive from Beyonce's performance? I get what she was trying to achieve, but I don't know that it wasn't lost in translation. I feel that she is too big and connected to keep showing her behind like that, even to make a political point. When does her maturity kick in about how to send a message without being halfway undressed? Half the debate is about what she wore and her blond weave, that dilutes the point she may have being trying to make."
Olugbala told the Amsterdam News, "People become conscious at their own level. We'll see what the follow-up is. My opinion is use culture as a weapon. They were gonna perform anyway. They are dancers and what they did is what dancers do. If they hadn't done this performance, nobody would be talking about the Black Panthers like this. As for Beyonce's performance, her tribute was more to Michael Jackson than anything else. You can't expect her to write or speak on the Movement. They are dancers. They dance."
The elder Panther noted, "When Mario Van Peebles "Panther" first came out, we hated it. But then young people started researching about the Panthers, and found out what the history was all about. The same with Spike Lee's "Story of Huey P. Newton." And with Stanley Nelson's "The Black Panthers: Vanguard of the Revolution," we were invited to a special screening and we supercritical of it because it did not include our political prisoners, but we were allowed to speak to the audience and talk about it.
"We understand that young people come to an understanding at their own pace. So we can use these things to let them discover what was the real history. Yes, the show was a little distasteful, but here we are honoring the 50th anniversary of the birth of the Black Panther Party for Self-Defense, and you have Giuliani going crazy talking about Beyonce's video is about shooting cops. We ignore that and speak on our history and how we move forward. As for the Superbowl—so, we have Cam Newton born in 1989, the same year as the passing of Dr. Huey P. Newton, who with Bobby Seale founded our Black Panther Party for Self-Defense l. The only thing is that the Panthers lost. True story: We hated the Carolina Panthers when they first came out. They stole our name and our colors, but look at the resulting conversation. Culture as a weapon, you use any connections you can."