Obama meets Colombian delegation, but where are the Blacks?
Karen Juanita Carrillo | 2/11/2016, 10:53 a.m.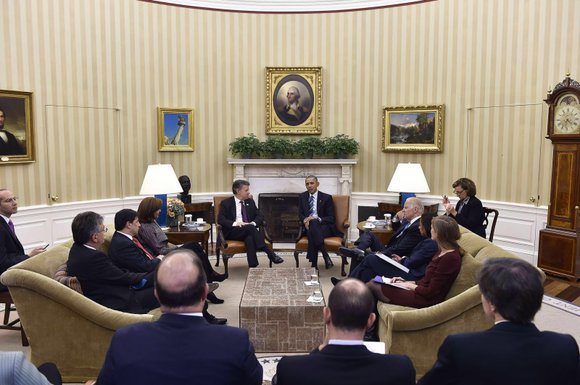 Special to the AmNews
There's some outrage being expressed in Washington, D.C., this week after the visit between Colombian President Juan Manuel Santos and President Barack Obama Thursday, Feb. 4.
Santos came to Washington with an official delegation of Colombian representatives to commemorate the 15-year anniversary of "Plan Colombia," a U.S. aid package that gave Colombia military training so that it could fight guerrilla insurgents and wage a countrywide war on drug cartels.
The Colombian president has been negotiating a peace process with the largest rebel organization in the country, the Revolutionary Armed Forces of Colombia, and a large percentage of the drug cartel industry has been displaced. Santos was in town to take part in a presentation in which Obama formally agreed to continue supporting the South American nation with $450 million to further what are now peace efforts.
However, sources that were present during the White House meeting say that Obama, National Security Adviser Susan Rice and Senior Adviser Valerie Jarrett all noted that the entire Colombian delegation—as well as the 250 people invited to the White House reception for the formal presentation—lacked people of color. The only Afro-Colombian in the building was former Major League Baseball infielder Orlando Cabrera. Otherwise, there were no indigenous people represented and no other politicians from Colombia's Black communities.
The lack of diversity among the Colombian officials attending the meeting stood in stark contrast with the representation of the South American nation Obama saw when he visited in 2012. However, Afro-Colombian activists say Obama should have expected this development, because even though Afro-Colombians make up some 15 percent of the population and the indigenous make up 4 percent, both have been protesting for years about their exclusion from the current government's Council of Ministers, which advises the president. Santos has nearly 20 cabinet ministers, but not one single Afro-Colombian or indigenous person holds an office.
One Afro-Colombian group said in a statement: "With the ongoing peace process, Colombia is seeking to end more than a half-century of war with the Revolutionary Armed Forces of Colombia. It is hard to imagine a country committing to peace and yet systematically disenfranchising its minority population. This travesty remains a serious problem that the leaders of the country refuse to address in a meaningful and committed way."