Hillary in Harlem
Her message to the Black electorate
Herb Boyd | 2/18/2016, 10:14 a.m.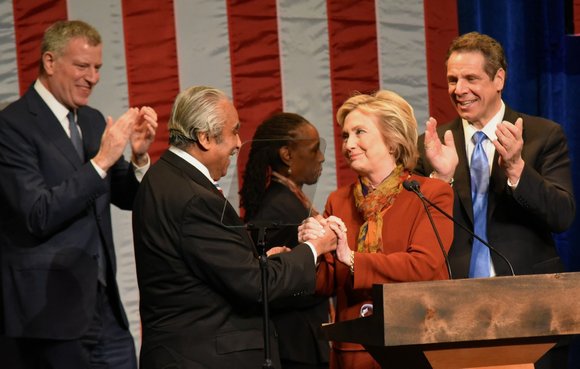 Special to the AmNews
From Wall Street to Harlem, presidential candidate Hillary Clinton was on message Tuesday, and the centerpiece of her objective of tearing down social and political barriers was the African-American community.
Her day began at the headquarters of the National Urban League, where she had private discussions with nine prominent civil rights organizations, including the NAACP and the National Coalition on Black Civic Participation. There was also a roundtable with a number of young leaders at the Urban League, and she lauded them for their emerging political activism.
But it was in Harlem at the Schomburg Center where she had her largest audience and repeated her $125 billion plan to invest in under-served communities, earmarking $2 billion to stop the pipeline to prison that has disproportionately affected young Black Americans. Introduced by Rep. Charles Rangel, who shared the stage with Gov. Andrew Cuomo and Mayor Bill de Blasio and their partners, as well as former Attorney General Eric Holder, Clinton thanked the elite Democrats in attendance before noting the importance of Harlem in the nation's history.
The community's diversity was symbolized by the mention of the center's founder, Arturo Schomburg, and the poet-writer Langston Hughes, "whose ashes are housed here," she said in an auditorium named after the great poet. "And [Hughes] reminded all of us that life is no crystal stair." Invoking Hughes' name allowed her to move comfortably into discussing the barriers that, she said, "disproportionately affect African-Americans."
She began by recounting her trip last week to Flint, Mich., and the people there who have been sickened by drinking contaminated water. By focusing on Flint, a situation she said was "immoral," she zeroed in on her message to Black Americans, particularly as she looks down the road to Nevada and South Carolina.
Without mentioning Sen. Bernie Sanders, she told the partisan audience there was a lot more going on in the country than the problems from Wall Street, and she promised to take on their excesses to make sure those who commit crimes on Wall Street are jailed. There was sustained applause and her supporters didn't miss her veiled reference to Sanders. "There is a lot more going on in our country that we need to be concerned about," she added.
Employment disparities, affordable housing and gun violence were at the top on her agenda, and the last was stressed and interrupted by rounds of ovation. She touched on the unfair sentencing, in which a white man committing the same crime as a Black man does not receive the same sentence for the same offense. "These inequities are wrong, but they are also immoral," she concluded, and the audience arose and cheered.
Her remarks on systemic racism were also loudly received, though she pointed there have been gains under the Obama administration. She praised the president for bringing the nation back from an impending depression and creating a health care plan that "insures 18 million people."
Among some of the improvements in Harlem was the Empowerment Zone, and this one was a special salute to the work of Rangel. "Here in Harlem, the unemployment rate was reduced by two-thirds," she said.