Hillary in Harlem
Her message to the Black electorate
Herb Boyd | 2/18/2016, 10:14 a.m.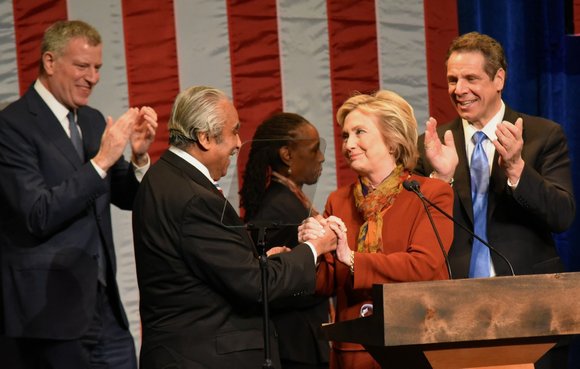 "When we can guarantee justice and dignity to every American, then we really can make progress," she stated, putting her comments in a larger context.
But she quickly got back on message for Black Americans, and she promised millions of dollars to create jobs for young African-Americans, who suffered more from unemployment and the lack of jobs than any other population. There was also a promise to support African-American entrepreneurs, "especially Black women." Again there was an outburst of cheers.
Equal pay and an increase in the minimum wage were greeted with thunderous approval.
On education, Clinton said our school systems in the nation were "more segregated than they were" in the 1950s. Similar to Sanders, she promised to alleviate the mounting costs of higher education with a reduction and refinancing of student debt. Her announcement to assist historically Black colleges was met with appreciation, somewhat catching a whooping audience by surprise.
Reforming the criminal justice system, she noted, "is something we can talk about for hours." All too often, she continued, the system is stacked against those "who have the least power and who are most vulnerable." The inability of the formerly incarcerated to get jobs and the rate of recidivism, were issues she promised to address.
The Justice Department, she said, must step in and make communities such as those in Ferguson, Mo., "accountable when they do wrong."
Clinton's praise for the work of Holder commanded a boisterous response, and he waved to the audience. Current Attorney General Loretta Lynch was also mentioned and commended.
Quality education, Clinton emphasized, was a civil right, and when school systems failed to adhere to this mission, the department of education should intervene.
She found another opportunity to express her support for President Barack Obama as he meets the challenge of naming a new Supreme Court justice after the death of Justice Antonin Scalia. The Republicans have promised to block his nomination as though "he was not the real president," Clinton said. Hatred and bigotry have no place in our daily lives or in politics, she added.
Toward the end of her hour-long speech, she brought up the name of Marian Wright Edelman, a woman who put her on the track to political activism and social service. "She channeled me on the path to social justice," Clinton effused about the founder of the Children's Defense Fund.
She was approximately 40 minutes into her speech, having discussed the importance of Edelman in her life, when there were several minutes of coughing. Several sips of water and some sort of throat lozenge eased the spell, but it was chants of "Hillary, Hillary," that gave her the time to recover and to resume.
Mustering what remained of an increasingly hoarse voice, Clinton reiterated the core of her message, insisting she would do whatever it takes to "tear those barriers" of limitation and create more opportunities for all Americans.
Only her march through the packed auditorium and embracing followers was enough to tamp down the euphoria and delirium from a rousing speech in Harlem and a message for the rest of the Black electorate.