Black emancipation poses threat to white supremacist traditions at 2016 Super Bowl
Sadiki "Bro. Shep" Ojore Olugbala | 2/19/2016, 3:55 p.m.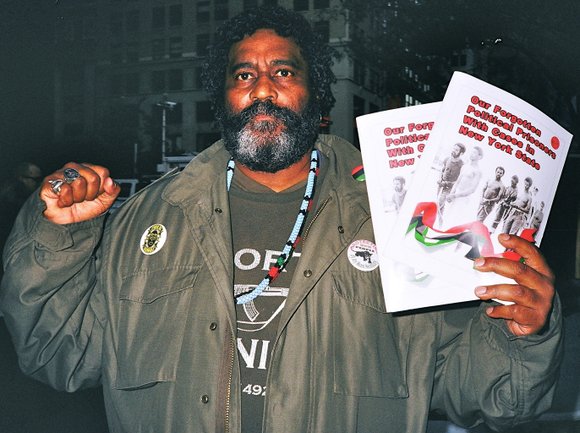 The official "Pro-Beyonce and Black Self-Determination Rally" statement, written by Young Lords Party veteran Carlito Rovira and delivered by Black Panther Party veteran Sadiki "Bro. Shep" Ojore Olugbala
For the most part, no one ever expected such a barrage of condemnation against the superstar African-American singing artist Beyonce for her performance during halftime at the 2016 Superbowl. It is an institutionalized extravagant sport event viewed by tens of millions of people throughout the United States.
The controversy began immediately after a dance troupe of approximately 50 women, with Beyonce at the helm, took center stage in a beautifully choreographed arrangement and dress attire that made references to the legendary Black Panther Party and Malcolm X. To many people, nothing could have been a better tribute to the annual tradition of Black History Month (February) than to depict figures so symbolic in U.S. history.
But to understand why this performance became such a controversy, we must first explore the causes that triggered it. Anyone who closely examines the norms of this violent "sport" will easily see how it tends to present itself as a feverish gladiator ritual. The definition of "sport" has been changed to mean inflicting bodily harm among high-priced members of opposing teams and in some cases with permanent damage.
With military music bands playing and jet fighters flying high above the airspace of stadiums, the Superbowl has become an event that insidiously promotes a peculiar version of militarism. It accentuates sexism, white supremacy and big-nation chauvinist arrogance—all of the not-so-hidden ideas that prevail in the general thinking of capitalist culture.
With this kind of historically rooted setting, it came as no surprise when arch racists and notorious figures such as U.S. Representative Peter King and former New York City Mayor Rudolph Giuliani launched a barrage of attacks against the prominent Black female performer.
They were appalled that Beyonce would dare pay homage to heroic African-American revolutionaries, even in the most minimized implicit manner. The vindictive outcry by these and other white supremacists has little to do with Beyonce or what they perceived as "offensive" during the halftime performance.
Malcolm X, the Black Panther Party and the mass upsurge that occurred during the 1960s-1970s, the height of the Civil Rights Movement, continues to haunt the imagination of our oppressors to this day. Their apprehensions are attributed to the militant traditions of the African-American masses, which brought about the rise of Malcolm X and the Black Panther Party.
The lessons that came as a result of those experiences are indisputably applicable in our reality today, and that is precisely what these villains fear while Blacks, Latinos, indigenous and other people of color continue to be brutalized and murdered by the police across the United States.
Unlike the lies asserted by Giuliani and King, it was the police who attacked, imprisoned and murdered Black Panthers in a criminal campaign organized by the Federal Bureau of Investigation, known as Operation COINTELPRO. However, both Malcolm X and the BPP boldly advocated and practiced the right to use armed self-defense against the racist terror of the police in the Black community.