Cheryl Toussaint keeps the Colgate Games running
Vincent Davis | 2/19/2016, 4:17 p.m.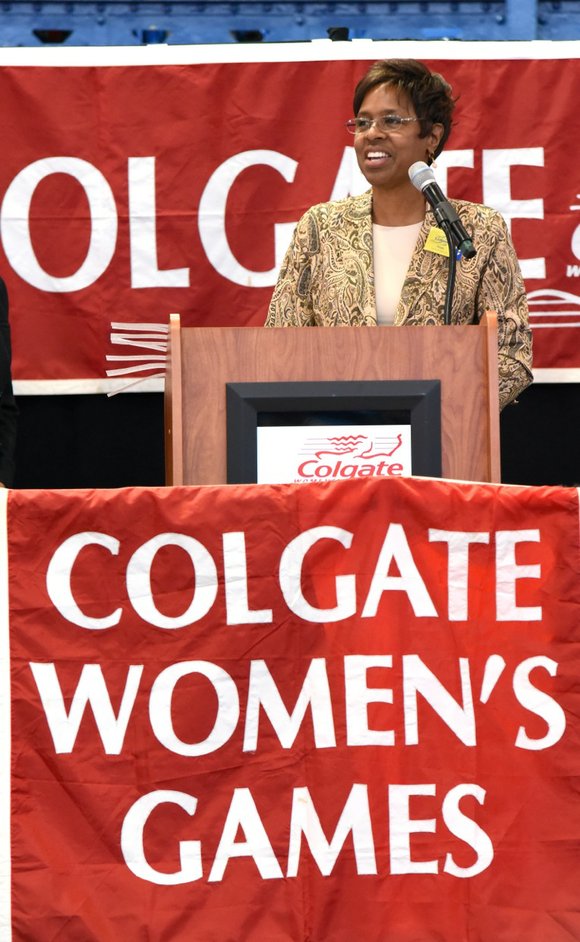 The Colgate Women's Games is the nation's largest amateur track series in the United States. Open to girls from elementary school through college, they also feature a competitive division for women 30 and over. Participants compete in preliminary meets and semi-finals to determine the finalists who will compete for trophies and educational grants-in-aid from the Colgate-Palmolive Company. Yes, Colgate-Palmolive, the company that manufactures toothpaste, deodorant, detergent, cat food, soap and many other items that you may have no knowledge of, but which may be in the cabinets, closets and pantries of your home.
Pacing herself like a long-distance runner in heels, overseeing the meets and all things associated with producing the day's events is meet director Cheryl Toussaint.
Toussaint, from Brooklyn, New York, who studied math and German at NYU, is an Olympian silver medalist, having represented the United States in 1972 as a member of the Women's 4x400 meter relay team, a year after winning a gold medal in the same event in the Pan American Games. For nearly a decade, she was ranked as one of the United States premier half milers, winning four 800 meter US championships, setting two world records at 600 yards and several American and world records in the 4x400 meter relay as a member of the US National Team and the ATOMS Track Club. Toussaint also represented the US abroad, scoring impressive victories over ranked opponents from Russia, China, France, England, Italy, Germany and Sweden.
Toussaint, who has enjoyed her share of success, believes in giving back. "Much was given to me," she said. "This is what makes the world tick. I believe that we have a responsibility to do so."
She was taught and inspired to do so by her mother, grandmother and coach, friend and mentor Fred Thompson, an attorney who started the ATOMS Track Club and the Colgate Women's Games in Brooklyn over 40 years ago.
"The goal, the attention of Colgate Women's Games, is to provide athletic competition that helps young girls and women who participate develop a strong sense of personal achievement, character and self-esteem. We instill the importance of education and provide a training ground for those who might not otherwise participate in an organized sport," said Toussaint proudly.
"I knew nothing about track or the sport before I started. As a child, I did like to run around, but I was just having fun in the neighborhood. I went with some girlfriends to a track meet in Brooklyn one day. I was wearing a skirt and sandals. We were teenage girls just hanging out, but everything that was going on there impressed me, attracted me, drew me in, almost immediately," said Toussaint, reflecting back on that day. "The girls that were running looked pretty awesome. I thought it was cool. My friends encouraged me, or more like dared me to try it. I did, reluctantly. I changed clothes with one of my friends who had on pants and sneakers and entered the 100-yard dash competition. I did pretty good, but I hurt my knee. After the race, I saw Fred working with the girls from his club. I introduced myself and asked about joining. He welcomed me." She's been a part of the sport ever since.