A ten-year milestone for Scalia's silent partner
By Ariane de Vogue, CNN Supreme Court Reporter | 2/22/2016, 10:29 a.m.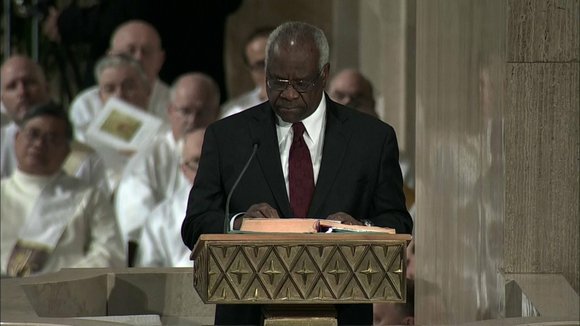 WASHINGTON (CNN) -- Justice Clarence Thomas' deep and unwavering voice filled the Basilica of the National Shrine last Saturday as he delivered a reading from the Book of Romans at the Mass celebrating his close friend, ideological soul mate and occasional defender, the late Justice Antonin Scalia.
At Court, Thomas and Scalia sat next to each other on the bench, but on Monday, when the justices return from their winter recess, Scalia's seat will be draped in black. It will stay that way for 30 days, and then will be removed all together, and the justices will change seats to reflect the new order of seniority.
At oral arguments, Scalia and Thomas had radically different styles. Scalia was vocal from the bench, peppering advocates with questions, while Thomas, in recent years, silently listened.
It's been ten years, to be exact, since Thomas asked a question at oral arguments.
Scalia has defended his colleague's silence, and asked enough questions for the both of them.
In 2012, he told CNN's Piers Morgan that when he was a young lawyer he appeared before the Justices as an advocate and was only asked two questions.
"It was not at all unusual for justices not to ask questions," Scalia said.
"Thurgood Marshall rarely asked a question. Bill Brennan rarely asked questions," he said referring to retired iconic justices.
"Leave Clarence alone!" Scalia joked.
In addition to friendship, the two men also shared the conviction that the Constitution should be interpreted according to the original intentions of the drafters. So called "originalism" was a cornerstone of Scalia's judicial philosophy, and will be a big part of his legacy.
"When Thomas took the bench, Scalia felt like he was the first line of reinforcement after years of fighting alone in the trenches to defend the original understanding of the Constitution," said Carrie Severino, a former clerk for Thomas.
"Neither Justice Samuel Alito, nor Chief Justice John Roberts have the same level of commitment to the theory," she said.
In 2013, Thomas gave a lively interview to Judge Diane S. Sykes, a federal judge on the U.S. Court of Appeals for the Seventh Circuit at an event sponsored by the conservative Federalist Society. Justice Scalia was in the audience.
"My closest ally and friend when I got there was Justice Scalia," Thomas told the audience.
"At the expense of embarrassing him," he said, " I can honestly say that as beat up as I was when I got there with the workload, I don't know how I would have gotten through it, if he hadn't been there," Thomas said.
Thomas acknowledged that while they didn't agree on every case, they agreed quite a bit.
Severino points out that one difference is that Scalia was more willing to build on the foundations of decisions even if he thought they were wrongly decided. The legal principle is called "stare decisis" and Thomas isn't a fan.
"Stare decisis doesn't hold much force for you?" Sykes asked.