Hometown glory at Millrose Games
Lois Elman | 2/25/2016, 12:46 p.m.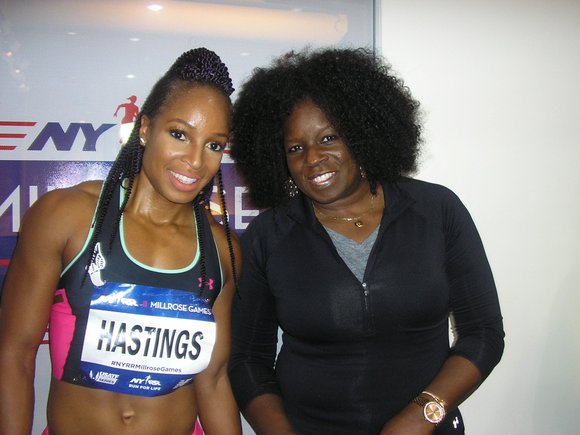 Special to the AmNews
Natasha Hastings said she wanted to come home and run big, and that's what she did. Making her first Millrose Games appearance in several years, the Brooklyn native and graduate of A. Philip Randolph Campus High School in Harlem smoked the field in the 400 meters.
"I feel like over the years I've been very fit. Much credit to my coach Darryl Woodson, but I've also enlisted the help of Ato Boldon to help with my sprint technique. I feel like they're both equal parts in my training. At this stage of the game, any little bit helps. I feel like it's made a huge difference," said Hastings, 29, who is aiming for a spot on the U.S. team for this summer's Olympics in Rio.
Being in New York gave Hastings the chance to connect with friends and family, who were in attendance at the Armory. She even rode the subway the day before the race—something she loves to do every time she's in town. Hastings decided to compete during indoor season this year to test out the new training.
"You can train all day, but nothing replaces competition," Hastings said.
Another local who triumphed was Ajee Wilson, from New Jersey, who withstood a ferocious challenge from Brenda Martinez to win her third consecutive Millrose 800 meters. Wilson's coach had predicted that someone would try to overtake her late in the race and gave her direction on how to stay in the lead. She has been running on the Armory track since high school, racking up many wins.
"It makes me really optimistic about the rest of indoor season," said Wilson, 21. "It's a good confidence builder. … I'm really happy where I'm at right now. Training has been going really well."
Janay DeLoach won the 60-meter hurdles. Betsy Saina took first in the 5,000. Shannon Rowbury claimed the mile. Olympic gold medalist and world champion Allyson Felix dominated the field in the women's 60-meter dash. She enjoyed interacting with the many kids and teenagers competing and in attendance.
"My coach wanted me to come here this year. He wanted to get a competitive 60 under my belt," said Felix, 30. "I don't get to run much indoors, so it was special to come back here, a place that I have high school memories at, and really feel the love."