Shaka Senghor's story of redemption
Herb Boyd | 2/26/2016, 1:23 p.m.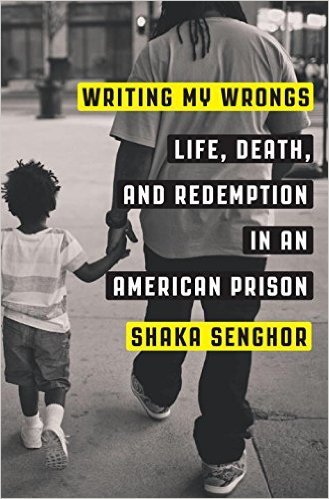 In Detroit, a city that has endured its share of bad news, it's good to know there are at least a few sprigs of hope and promise. One element of brightness amid the economic blight is Shinola, a company that has brought new job opportunities to the beleaguered city.
But sometimes all you need is the story of a resident's emergence from squalor and depredation to lift a community's spirit. Reading Shaka Senghor's memoir, "Writing My Wrongs: Life, Death and Redemption in an American Prison" (Convergent Books, 2016), is an example of a person's recovery, a man's determination to do the right thing no matter how far he has fallen into the pits of depravity and dysfunction.
Senghor's rise from a crucible of crime, long periods of solitary confinement in prison and finding the strength to forgive drives his narrative and reveals a skillful storyteller. While his story of redemption is by no means unique—there are moments behind bars that will remind you of Malcolm X's autobiography—Senghor has his own special way of recounting an experience that never seems to veer away from absolute hopelessness.
It stands to reason that most of the book takes place in practically every correctional institution in the state of Michigan. As he relates in the first of the book's three parts, "The slamming of the steel doors was a signal that the iron monster had once again been fed. My journey begins."
That journey would last 19 years before he was released in 2010. He had spent half his life in reformatories or prisons, and his impressions of those nights and days are delivered with a stark realism that is only occasionally relieved by humor and the bizarre characters he encounters.
Bracketing his cautionary tale are two letters. At the beginning of the book, Senghor recalls a letter he wrote to the man he killed. "It wasn't until I was 10 years into serving my sentence [he had been sentenced to 40 years] that I began seeing things differently. My healing started when I learned to begin forgiving myself for the wrongs I had committed," he wrote. "However, the real change started a year later, when my 11-year-old son sent me a letter that said he had found out the real reason I was in prison."
In the book's afterword, he discloses a letter he received from the mother of the man he murdered. "What I want you to know, other than these painful things that you have brought upon my family, is that I love you and I forgive you," she wrote. The letter is as moving as his own self-abasement, and he concludes by asking us to envision "a world where men and women aren't held hostage to their pasts, where misdeeds and mistakes don't define you and the rest of your life.
"In an era of record incarceration and a culture of violence, we can learn to love those who no longer love themselves," he continues. "Together, we can begin to make things right."
Senghor has certainly made some phenomenal leaps to make things right, and none are more heartfelt than the relationship he developed with Ebony, a woman who, without reservation, helped him toward the better angels of his nature. The letters they shared, though we get only a tantalizing peak at them, are reminiscent of those exchanges between Angela Davis and George Jackson.
Throughout the book we see Senghor's gradual transformation, a steady growth and political development that is enhanced by the books of Amos Wilson, J.A. Rogers, Chancellor Williams and Maya Angelou. Of course, there's Malcolm's autobiography, and there may come a time when Senghor's book will be embraced with the same regard he has for his mentors. Even if that day never arrives, we can take pride in Senghor's ongoing evolution, his devotion to teaching and his leadership as the director of strategy and innovation with #cut50 and his work to end the pipeline of young Black men to the nation's prisons. His presence is a sufficient reward.