De Blasio, Cuomo spar over homeless issue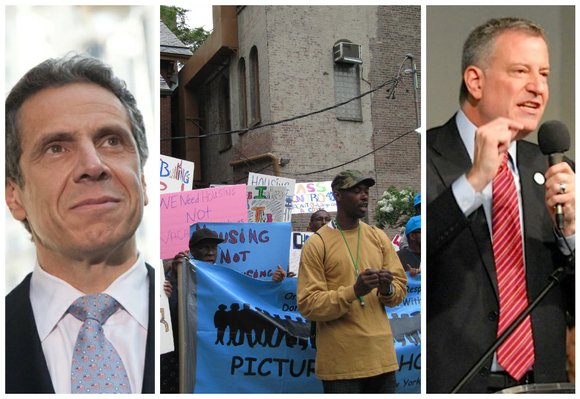 The homeless are usually stuck between the shelters and the streets. Now they're stuck between Mayor Bill de Blasio and Gov. Andrew Cuomo.
In the battle to prove "I'm more progressive than you," the mayor and the governor have attempted to one-up each other over who can help the homeless the quickest.
Monday, de Blasio announced a three-year plan to phase out and permanently end New York City's program of putting homeless families into "cluster" shelter units (which has gone on since Michael Bloomberg's first term). These cluster units are usually regular rental apartments in privately owned buildings that already have paying tenants. The mayor feels they should just be low-rent housing.
"The cluster homeless shelter system is broken and represents the worst combination of expensive housing, bad conditions and poor access to services that homeless families need," said de Blasio in a statement. "Importantly, cluster shelters take badly needed low-rent apartments off the market. Now we have a solid, practical program for ending the use of clusters, returning apartments to the market and providing new shelters that are attractive for both residents and the communities in which they are located."
De Blasio wants the units to either be converted into permanent housing or have residents move to another shelter by Dec. 31, 2018. In the meantime, Cuomo is looking to take care of the homeless issue now. With the city experiencing its first winter chill of the season, the governor signed an executive order to protect homeless individuals from inclement winter weather (when temperatures drop below 32 degrees) by putting anyone on the street into shelters.
When the governor spoke to Kathleen Marple on 1010 WINS earlier this week, he talked about compassion and not wanting the homeless to be left out in the cold.
"The holiday season is about compassion and love and helping one another," said Cuomo. "And this state has always set the bar higher than other states, right? We passed laws in New York that no other state has. We passed marriage equality; we passed gun control laws that no other state has. So what we're saying is that as people, as a society, we want to make sure that every New Yorker has a place to be sheltered and doesn't have to be in the cold weather.
"It's going to be 13 degrees in Buffalo; 14 in Syracuse," said Cuomo. "It's cold out there."
Marple also asked Cuomo if the homeless situation was a city matter or a state matter. Cuomo focused on the homeless and how they shouldn't be left outside to freeze.
"Look, you have a federal government, a state government and a city government," said Cuomo. "We believe some things as a nation that apply to everyone. We believe some things as a state that apply to everyone in the state. And we believe as a state that we're not going to leave anyone on the streets in the cold."
Cuomo also called it "unacceptable" that some of the homeless might not want to go into the shelters because it's dangerous.