Songstress Natalie Cole dead at 65
Ron Scott | 1/7/2016, 12:40 p.m.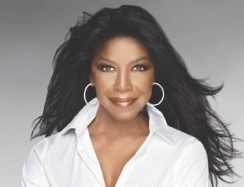 Natalie Cole, the soulful, Grammy Award-winning jazz singer who, like her legendary father Nat King Cole, carried a distinctive sound, died Thursday, Dec. 31, 2015, in Cedars-Sinai Medical Center in Los Angeles. She was 65.
A family spokesperson stated the cause was a combination of ongoing health issues. Cole had undergone a kidney transplant in 2009 and had recently suffered from other ailments, causing her to cancel a series of tour dates.
At the early age of 6, Cole sang on her father's Christmas album and began performing soon after. Her soulful voice, a combination of silk textured with honey, allowed her to sing effortlessly in a high register that contributed to her "unforgettable" vocals.
Before Cole sang one note, her big smile showing her frontal gap ignited the audience with a warm, fuzzy feeling. Then she began to sing, and, wow, did her voice make you smile. That was her magic—an uplifting voice that moved you to higher ground whether it was a ballad or up-tempo swing.
During her long career, Cole recorded a wide selection of material from Tin Pan Alley staples to songs written for her and by such diverse artists as Fiona Apple and Bruce Springsteen. In 2013 she followed in her father's footsteps and recorded "Natalie Cole En Espanol" (Verve/Universal), a collection of Latin standards and a featured duet with Dominican vocalist Juan Luis Guerra. The album was nominated for a Latin Grammy. Her father recorded his first album in Spanish when she accompanied him to Mexico at the age of 8.
Natalie Cole was born Feb. 6, 1950, in Los Angeles to the renowned singer-pianist Nat King Cole and Maria Hawkins Ellington (no relation), a former singer of the Duke Ellington Orchestra. She later majored in child psychology and graduated from the University of Massachusetts, Amherst in 1972.
Cole grew up listening to a variety of artists and began singing during high school. She began working with the Chicago producers Chuck Jackson and Marvin Yancy (who she eventually married). The trio's recordings caught the attention of Capitol Records, who signed her (the original record label of her father).
Cole and her producers' debut album, "Inseparable," earned her a No. 1 single, "This Will Be (An Everlasting Love)" and two Grammy Awards for Best New Artist and Best Female R&B Vocal Performance.
In 1977, Cole's third album, "Unpredictable," was released, which scored a No. 1 R&B hit with "I've Got Love on My Mind." This became her first platinum album. During the same year, her fourth album, "Thankful," also went platinum and featured another signature hit, "Our Love." The success of this album gave her the distinction of being the first female artist to have two platinum albums in one year.
Just as her father's stardom pole-vaulted him into television, she also found new success there with her own television special in 1977. It was the first of more than 300 television appearances in her career, which included dramatic roles on "Law and Order," "Touched By an Angel," as well as guest spots on talk shows hosted by Oprah Winfrey, Ellen DeGeneres and Larry King.