Funeral held for singer Natalie Cole
By John Newsome CNN | 1/12/2016, 11:06 a.m.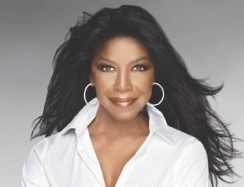 (CNN) -- Singer Natalie Cole was given a final send-off by her family and friends in Los Angeles on Monday in a service befitting an "unforgettable" artist, known for her duets with her father Nat King Cole, mainstream hits like "This Will Be (An Everlasting Love)," and her sophisticated interpretation of the American songbook.
The private ceremony featured musical tributes and speeches from Stevie Wonder, Smokey Robinson and David Foster.
Family members and friends gave tributes, and the Rev. Melvin V. Wade Sr. preached "The Message of Victory." Music included "Thank You Lord" and the recessional was Cole's song, "Our Love."
Chaka Khan, Angela Bassett, and the Rev. Jesse Jackson were in attendance, among others. It was held at West Angeles Church of God in Christ.
Cole will be buried with her other family members, including her father, Nat King Cole, her publicist Maureen O'Connor said.
Cole died on New Year's Eve at age 65.
A musical family
Born in 1950, Cole grew up among musical royalty. Her father was one of the most accomplished singers and jazz musicians of the postwar era, and her mother, Maria Hawkins Cole, was a singer for Duke Ellington. Their house, in Los Angeles' upscale Hancock Park neighborhood, was a regular spot for her parents' colleagues.
"I remember meeting Peggy Lee, Danny Thomas, Lena Horne, Dorothy Dandridge, Ella Fitzgerald, Louis Armstrong and so many others at parties," she told The Wall Street Journal in 2014.
At age 6, Cole sang with her father on a Christmas album, and she was performing by the time she was 11. Nat King Cole died in 1965, when she was 15, a loss that "crushed" her, she said.
"Dad had been everything to me," she told the WSJ.
After college in Massachusetts, Cole embarked on her own career. In 1975, she had a massive hit with "This Will Be" from her album "Inseparable," which showed off her tremendous pipes -- she earned comparisons to Aretha Franklin -- and command of a range of styles. The work won her a Grammy for best new artist.
She followed that with other hits, including "I've Got Love on My Mind," "Our Love" and "Someone That I Used to Love."
But failing sales and personal problems sidetracked Cole's career. She had done heroin in the early '70s, she told the Houston Chronicle, and then got hooked on cocaine. Her mother even filed for conservatorship in 1982.
A rehab stint in 1983 turned her life around, she said.
"Somehow, at some point halfway through those 30 days, I went from not wanting to be there to being afraid to leave. I was starting to get it," she said.
Cole began a comeback in the late '80s that was capped by 1991's "Unforgettable ... With Love," an album that -- thanks to the wonder of technology -- included a duet with her father on one of his biggest hits, "Unforgettable." (On another song, "Route 66," she was accompanied on piano by another member of her family, her uncle Ike Cole.)