Funeral held for singer Natalie Cole
By John Newsome CNN | 1/12/2016, 11:06 a.m.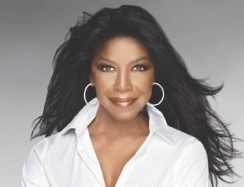 For years, she had declined to perform her father's works in concert; now, an album of those recordings won six Grammys, including the big three: song of the year, record of the year and album of the year.
She won another Grammy for 2008's "Still Unforgettable," which included a variety of American standards.
Longtime Grammy producer Ken Ehrlich remembered Cole as having "one of those magical voices that grabbed you from the first note."
"In a way, and not just in lineage, Natalie was the connector between the great singers of her father and Ella's generation, and the great female voices who were to dominate in the last 25 years," he said in a statement. "I'll never forget when we did 'Unforgettable' as a duet with her father's recording on a Grammy hall of fame show, years before she recorded it. Magical!"
In 2008, Cole started suffering from kidney problems due to hepatitis C, which she attributed to her past drug issues. Despite chemotherapy, both kidneys failed, and in 2009, she went public with a request for a kidney donation.
Even then, despite her struggles, she was a determined performer.
"I have been on dialysis in Istanbul, Milan, Indonesia, Manila, London. It's -- it's amazing," Cole told CNN in 2009.
She received a directed donation of a kidney from a deceased donor in May 2009.
Cole maintained her recording and performing career, most recently recording an album in Spanish, "Natalie Cole in Español."
CNN's Todd Leopold contributed to this report.