Celebrating the life of Alvin Ailey on his 85th birthday
Zita Allen | 1/14/2016, 5:42 p.m.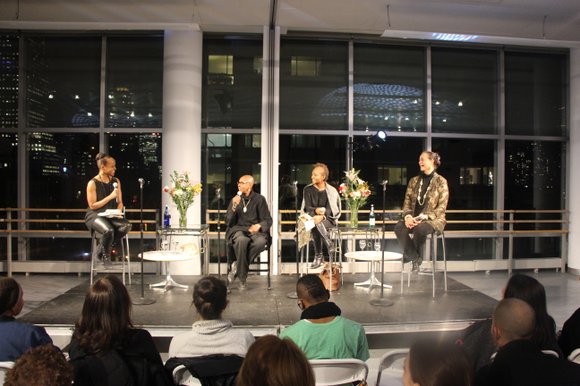 On Jan. 5, the Alvin Ailey American Dance Theater celebrated what would have been the 85th birthday of the man who founded the world-renowned company in 1958 and changed the face of American dance forever. The event featured a panel of four dancers who knew, inspired, were inspired by and loved Ailey while also devoting themselves to protecting and preserving his legacy and helping realize his vision.
Entitled "Celebrating the Life of Alvin Ailey," the panel of former Ailey dancers included Artistic Director Emerita Judith Jamison, Ailey II Artistic Director Emerita Sylvia Waters and former AAADT principal Donna Wood, And who better to moderate a discussion by three some have dubbed Ailey's muses than Renee Robinson, a 30-year veteran of the AAADT who, when she left the company not long ago, was one of the last members to have worked directly with this brilliant, warm and generous man?
Together, these women have had a major impact on the Ailey company as performers breathing life into his artistic vision and as administrators, educators and coaches guiding young company members, aspiring dancers and audiences through a repertory noted for its stylistic diversity, choreographic brilliance and heartfelt impact on audiences from Manhattan to Moscow.
With contagious camaraderie, the women touched on everything from how they joined the Alvin Ailey American Dance Theater to what it was like to rehearse and perform Ailey masterpieces such as "Revelations" and "Blues Suite" or gems by the seasoned and emerging choreographers Ailey has always welcomed. They spoke of the bus tours in the old days, the one-night-stands in small towns across America and how the company was like a tight-knit family.
Waters recalled how she first joined the company, saying, "I saw the first 'Revelations' (1960) and I saw the first 'Blues Suite' (1958). And in those days I saw a lot of Alvin and he saw a lot of me because many of us performed at the Kaufman Auditorium in the 92nd Street YMHA. So when I returned to America after dancing Maurice Bejart in Brussels, I ran into Alvin at the Brooklyn Academy of Music. He asked me, 'What are you doing?' I said, 'Nothing!'" Chuckling, she added, "That's how I came to join the company. "
Wood, who joined a few years later, described how after high school graduation in Dayton, Ohio, she convinced her parents to let her postpone college so she could come to New York and pursue her dream as a dancer. They gave her two weeks. In that time she auditioned for American Ballet Theater, Joffrey and a few other companies to no avail.
"They told me I was too tall," she said smiling. Then, following a friend's advice, she took class at Ailey, where Ailey and none other than Katherine Dunham spotted her. But nothing happened immediately so she returned home and kept calling to see if there were any openings. Finally, a few weeks later, her dream came true. Wood noted that one of the first dances she was asked to do was Dunham's "Choros." "From there it came on like a landslide," she said. "'Choros,' 'Revelations,' 'Dance for Six,' 'Toccatta'—everything. I had to learn six ballets in six weeks."