2015: Black theater year in review: Pt. 1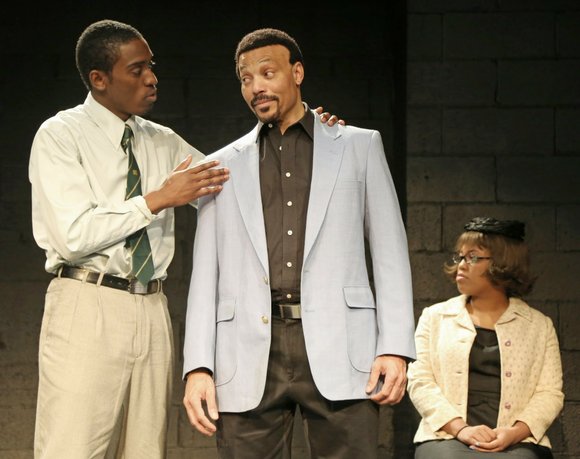 As I said, non-traditional casting was abundant in 2015. After "Dutchman " and "You Can't Take It With You," Masterworks Theater Company staged a revival of Tennessee Williams' classic play, "The Glass Menagerie," at the 47th Street Theatre. The members of the Wingfield family were ethnically mixed. Amanda Wingfield, the mother character, was played by Hispanic actress Saundra Santiago. Her children Tom and Laura were played by African-American actors Richard Prioleau and, making her stage debut, Olivia Washington. Prioleau gave an astounding performance and Washington definitely made Denzel and Pauletta proud as she portrayed Laura. She gave the character marvelous dimensions and made the audience see a whole person—shy, handicapped, lonely and awkward, but also talented, gentle and sensitive.
A marvelous musical called "A Band of Angels," let audiences know about the history of the Jubilee Singers of Fisk University. The musical presented by the New York City Children's Theater was beautifully directed by Colman Domingo and featured an incredible cast that included Cynthia Nesbit, Denielle Marie Gray, Bryson Bruce, La'Nette Wallace, Sekou S. Luke and Sam Ray. The cast performed exquisite renditions of old-time gospel songs such as "There Is a Balm in Gilead," "This Little Light of Mine" and "All God's Children Got Shoes."
In a year when Black males were losing their lives because of racism, it was the appropriate time to do "Emmett, Down in My Heart." This dramatic production, written by Clare Coss, directed by Erica Gould and presented at the Castillo Theatre, reminded audiences that racism has been around a long time and is brutal and harsh. Coss gave audiences a clear look at the Emmett Till murder that occurred in Mississippi in 1955. The audience got to know the characters of Till, his mother Mamie, his Uncle Mose, his Aunt Lizzy and his Cuz. We also got to realize how strong a person Mamie was, as she insisted on an open casket at Till's funeral, so the world could see how her son had been tortured and killed by a racist white business owner. The cast was marvelous and consisted of African-American members James Ross, Jasmine Saunise, Cassaguol Leonidas Jr., Tiffany Raelynn and Lorenzo Jackson.
Montego Glover had a featured role in the funny Broadway musical, "It Shoulda Been You" that played at the Brooks Atkinson Theatre. She was very amusing as a bisexual friend of a bride to be.
Michael James Scott is featured in the original, very funny musical comedy, "Something Rotten" playing at the St. James Theatre on W 44th Street, also on Broadway. This musical comedy is superb! It's focused on William Shakespeare—I'll say no more.
[END OF PART ONE]
Continuing its season dedicated to Amiri Baraka, Woodie King Jr.'s New Federal Theatre staged "Most Dangerous Man in America (W.E.B. DuBois)." The play was performed at the Castillo Theatre and looked closely at the accomplishments, struggles and persecution that occurred in DuBois' life. The cast gave solid performances and included Art McFarland, Petronia Paley, Keldrick Crowder, Sidiki Fofana, Marie Louise Guinier, Alonzo Jones, Te'La Curtis Lee, Joyce Sylvester, Akil N. Williams, Landon G. Woodson, Zuhairah, Lamar K. Cheston, Michael Basile, Arthur Bartow, Ralph McCain, Nick Plakias, Stu Richel and Robert G. Siverls.