Spring '16 fashion celebration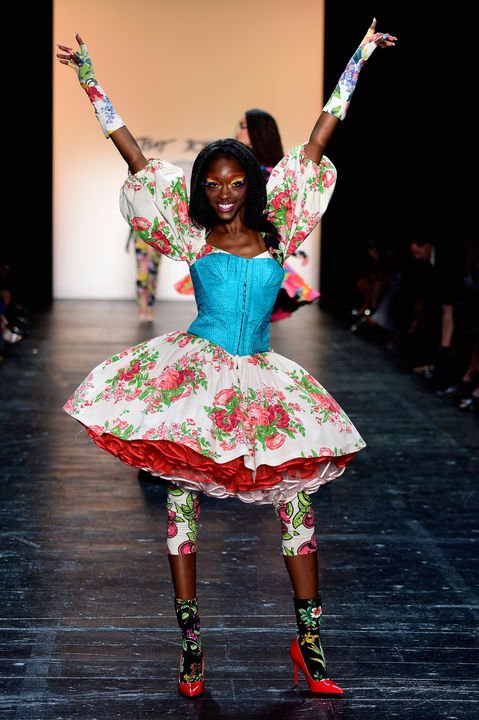 Known for celebrating exuberant, embellished and over-the-top fashions, Betsy Johnson always delivers an entertaining collection that rocks the tent. Her clothes are unique, free-spirited and unique.
Fashion audiences love her clothes. She dances and performs her cartwheels at every show, and the way she puts her clothes together shows the audience just how easy it is to wear everything in her collection.
She follows her own set of style rules, and Johnson is as original as they come. She is committed to remaining true to her one-of-a-kind vision, which has afforded her continued success in a fascinating industry. Her best asset is her ability to change with the times while keeping her designs pure and noticeable. For spring 2016, her dance carnival theme continues to surprise the audience. One model has a big head of curls, another has wavy hair. Prints and colors are bold and bright. Dresses are long, short with flare or straight skirts. Glittery tops are also colorful.
Her aspirations to be a dancer and her love for costumes were the foundation for her company. She honed her design skills working with hip designer companies, including Paraphernalia, a clothing company that was popular in the 1960s. She also performed stints with Mary Quant and Paco Rabanne.
Her enthusiasm, creativity and boundless talent has kept her at the forefront of the fashion industry for the past 48 years. "Making clothes involves what I like—color, pattern, shape and movement. I like the everyday process, the people, the pressure, the surprise of seeing the work come alive while walking, dancing around strangers," explained Johnson. "Like the red lipstick on my mouth, my products wake up, brighten and bring the wearer to life. My clothes draw attention to her beauty, specialness, her moods, her movements, her dreams and fantasy."
Johnson is the original wild child. Pink is her favorite color. Her clothes offer a fun-to-wear-fashion appeal for the young at heart.
Another American designer, Tommy Hilfiger, offered some fun items in his collection for spring 2016. The Hilfiger brand is one of the most recognizable brands for apparel, accessories and home. Hilfiger introduced his first signature collections in the late 1980s. Known for his street-style menswear, he showed button-down shirts, chinos and other time-honored classics. His spring '16 collection included women's swimsuits with details, and long and short dresses. There were prints and patterns. The clothes were youthful yet his designs remain a distinctive hallmark throughout all of Hilfiger's subsequent collections.