Youth demand justice for police killing of Ramarley Graham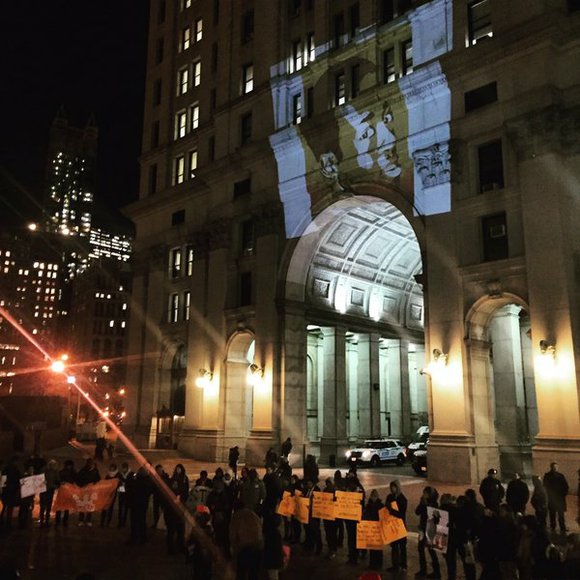 Dozens of youth and student organizations from across New York City convened outside of the office of U.S. Attorney Preet Bharara on Tuesday for a speakout to demand justice in the police killing of Ramarley Graham. They called for Bharara and the U.S. Justice Department to prosecute all the NYPD officers involved on the scene of the killing and make the case a priority.
The unarmed 18-year-old was killed by NYPD Officer Richard Haste in front of his grandmother and 6-year-old brother after officers unlawfully busted into their home without a warrant or cause on February 2, 2012. A Bronx grand jury indicted Haste on two counts of manslaughter, but Judge Steven Barrett dismissed the indictment due to a prosecutorial error made by the Office of Bronx District Attorney Robert Johnson. On August 8, 2013, a second grand jury decided not to re-indict Haste, but the U.S. Justice Department indicated it was reviewing the case.
"I feel greatly saddened that a person of color simply cannot stay in the safety of their own home," said Kevin Louissaint, a 17-year-old Liberation Program Member at The Brotherhood/Sister Sol. "The fact that this case is not progressing to seek justice only proves how much the justice system values a black life. As a young black man living in NYC under biased policing, I feel as if I have to live in fear of knowing the same people I am supposed to trust for my safety, may be the same people that will put me in danger because of their perception of me."
After a year of inaction by Bharara's office on the case, Constance Malcolm and Franclot Graham – Ramarley's parents – and New Yorkers from across the city delivered over 33,000 petitions to Bharara and the Department of Justice (DOJ) demanding a full investigation. After meeting with the family, the office confirmed it was conducting a full investigation.
Bill Moore photos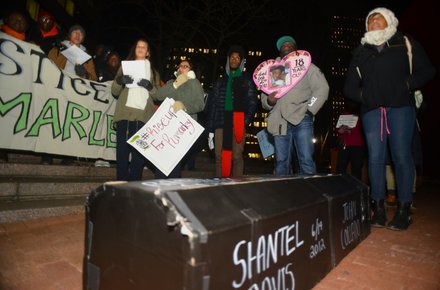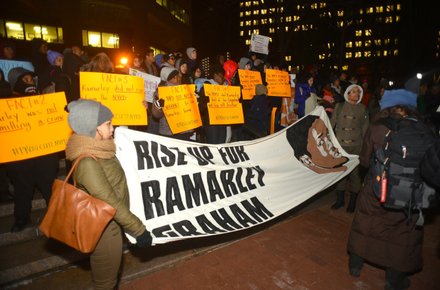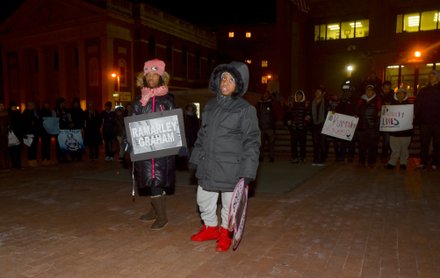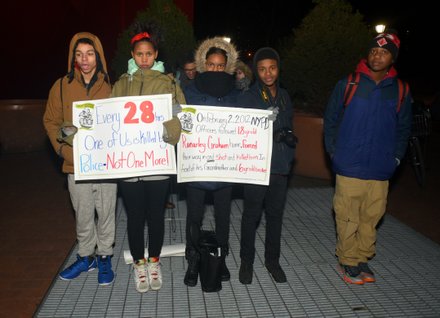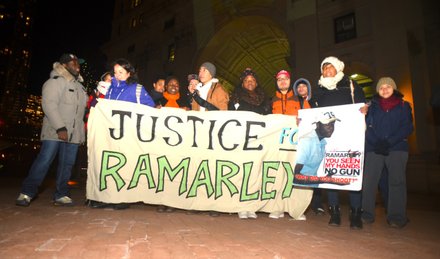 However, advocates say there has been no public action or statements by Bharara made in the case since August 2014. The demands of Bharara and DOJ come as the four year anniversary of Graham's death approaches. NYPD Officer Richard Haste, who shot and killed Graham, is still employed by the NYPD and has received multiple salary increases over the four years since he killed Graham.
"This office is acutely aware of how painful it is to lose a child in an encounter with law enforcement under any circumstances," Bharara said in statement in August 2014. "In addition to reviewing evidence obtained from local authorities, this office has been conducting its own independent investigation of this tragic incident."
Malcolm was one of several family members of New Yorkers killed by police, who led advocacy efforts that moved Gov. Andrew Cuomo to issue an executive order to authorize a special prosecutor for police killings of civilians. The executive order is not retroactive, and the families' efforts were intended to advance justice for New Yorkers who may face similarly tragic circumstances in the future.
In April 2014, the chairs and members of the New York State Black, Puerto Rican, Hispanic & Asian Legislative Caucus and the New York City Council Black, Latino & Asian Caucus sent letters to Attorney General Eric Holder requesting an official investigation by the Department of Justice into the death of Ramarley Graham.
Rockaway Youth Task Force CEO Milan Taylor said, "The number of black and brown people killed unnecessarily by the NYPD is unacceptable. We support Graham's family in bringing awareness to this issue and will continue to fight for change. The NYPD is full of good cops, but their reputation is being tarnished by incidents like Graham's. We hope our actions will lead to a reform of the department and a safer New York for all residents, regardless of color."