Schomburg holds fourth annual Black Comic Book Fest
1/21/2016, 12:34 p.m.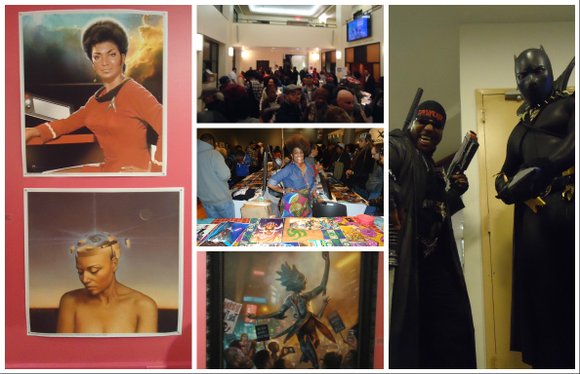 The Schomburg Center held the fourth annual Black Comic Book Festival last Saturday, celebrating the rich tradition of Black comics in a full day event that featured panel discussions, film screenings, hands-on workshops, exhibit tables with premiere Black comic artists from across the country and the Afrofutrism art and design exhibition "Unveiling Visions: The Alchemy of the Black Imagination," curated by John Jennings and Reynaldo Anderson.
The Schomburg Center's Black Comic Book Festival was presented by Deirdre Hollman (Schomburg Education & Junior Scholars Program) in collaboration with Jerry Craft (Mama's Boyz) and John Jennings (SUNY Buffalo/Black Kirby).
The following artisits exhibited in the Schomburg lobby and main exhibition hall (in alphabetical order): Shawn Alleyne (Pyroglyphics Studio/DeviantArt); Eric Battle (freelance illustrator); Andre Batts (Urban Style Comics); Karl Bollers ("Watson and Holmes" series); Michae Brantley (Meantees.com); Kamilah Briscoe (Griff's Comics); Antuan Broussard (Battlemasterz); Akinseye Brown (Sokoya Productions); William Campbell (Rosarium Publishing); Jerry Craft (Mama's Boyz); Maia Crown Williams (Amonyet Ent.); Paris Cullins (Blue Devil/ Hyperkind); Andre LeRoy Davis (artist) (sharing a table with Maya Grant Richardson); Ray Felix (Bronx Heroes); Tim Fielder (Dieselfunk Studios/Tim Fielder-Simmons and Co.); Corey Fields (Nukleus Comics); professor Will Foster (comic book collector and researcher); Robert Garrett (Xmoor Studios); Darrell Goza (Creative Script Graphics); Maya Grant-Richardson (Sheeba Maya artist); Norwood S. Harris (illustrator); Rahsaan Harris (author of "Me and My Big Brother"); John Jennings (Black Kirby/Black Comix); Mshindo Kuumba (Deviant Art); Stephane Metayer ("Tephlon Funk"); Keith Miller (RatRonin Studios); Jamar Nicholas (cartoonist); Tony Puryear (Concrete Park); Regine Sawyer (Lockett Down Productions); Guy Sims (Brotherman Studios); Juliana Smith ("(H)afrocentric: The Comic"); Whitney Taylor (freelance cartoonist); Jerome Walford (Forward Comix); David Walker ("Shaft," "Cyborg," "Powerman" and "Ironfist"); Maurice Waters (co-founder of BlackSci-Fi.com); and Eric Wilkerson (illustrator).