Flint, Michigan: Did race and poverty factor into water crisis?
By Michael Martinez, CNN | 1/27/2016, 9:53 a.m.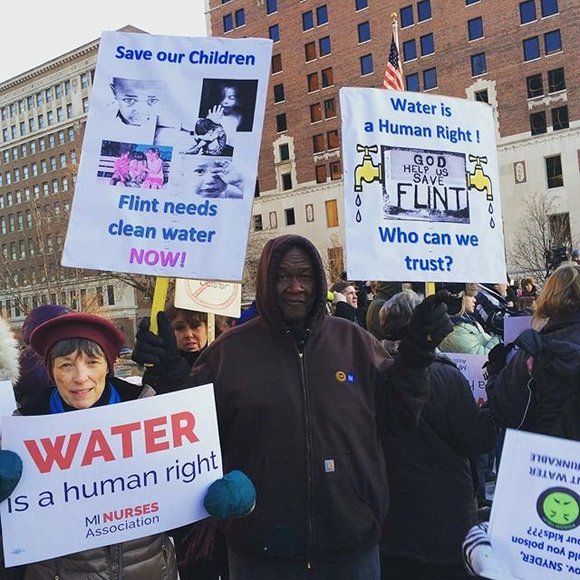 (CNN) -- The contamination of drinking water in Flint, Michigan, has so outraged community advocates that they now pose a powerful question: Was the city neglected because it is mostly black and about 40% poor?
Several advocates say yes. They charge that Flint residents are victims of "environmental racism" -- that is, race and poverty factored into how Flint wasn't adequately protected and how its water became contaminated with lead, making the tap water undrinkable.
"Would more have been done, and at a much faster pace, if nearly 40 percent of Flint residents were not living below the poverty line? The answer is unequivocally yes," the NAACP said in a statement.
Others go further.
"While it might not be intentional, there's this implicit bias against older cities -- particularly older cities with poverty (and) majority-minority communities," said Democratic U.S. Rep. Dan Kildee, who represents the Flint area.
"It's hard for me to imagine the indifference that we've seen exhibited if this had happened in a much more affluent community," he said.
For the record, Flint is 57% black, 37% white, 4% Latino and 4% mixed race; more than 41% of its resident live below the poverty level, the U.S. Census says.
NAACP President and CEO Cornell Brooks drew a direct equation between Flint's socioeconomic factors and the toxic drinking water.
"Environmental Racism + Indifference = Lead in the Water & Blood," he tweeted.
Governor points the finger at bureaucrats
State officials, however, vehemently dispute the claim.
"Absolutely not," Republican Gov. Rick Snyder told MSNBC. "Flint is a place I've been devoted to helping. ... Several cities -- Detroit, Flint, Pontiac, Saginaw -- I've made a focused effort since before I started in office to say we need to work hard to help people that have the greatest need."
For sure, "there were major failures here," Snyder added.
But he blamed the crisis on incompetent bureaucrats, specifically citing "a handful of quote-unquote experts that were career civil servant people that made terrible decisions," he said.
Already, Susan Hedman, the U.S. Environmental Protection Agency's regional administrator for Flint, Michigan, has resigned in the wake of the crisis.
Brooks met with the governor Tuesday.
"His tone was one of remorse and regret and I took that to be genuine," he said. "I think the residents and citizens of Flint will take the remorse of government to be genuine when they see safe, pure, quality water coming out of the tap."
Brooks is pressing for a definitive plan of attack.
"We're trying to take action that is specific, that's focused, that's urgent and speaks to the people's needs," he said. "Talking with a deadline that has dollar symbols represents action, and that's what we're trying to do."
Michael Moore: Arrest governor
The matter has been discussed in social media, particularly by filmmaker and Flint native Michael Moore.
Moore said the governor should be arrested for his role in the Flint water crisis. A state plan to save $15 million on Flint's water bills may now cost $1.5 billion in clean-up, Moore said in his online petition for help from President Barack Obama.