Charles Lloyd, the New Cookers, Bass at Dizzy's
1/29/2016, 12:28 p.m.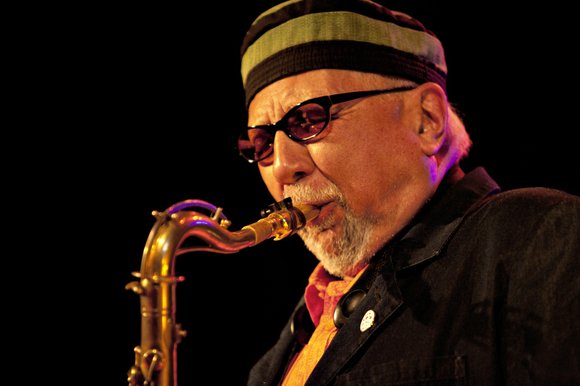 In 1965, when Charles Lloyd recorded his first album, "Dream Weaver" (Atlantic Records), as a leader he was already acknowledged as a rising star. His group at the time—pianist Keith Jarrett, bassist Cecil McBee and the drummer Jack DeJohnette—were a young, volcanic force in the midst of erupting its creative lava all over the jazz world, the band included
Their second album, "Forest Flower: Charles Lloyd at Monterey" (Atlantic, 1966), was a live performance that mesmerized the California audience. The title cut (side one), as well as the remaining tunes, swayed like a river, each musician having a definitive voice that echoes today as a legendary album that is required listening for fans and musicians.
"Forest Flower" is a mixture of straight-ahead jazz that roars into a far out monster flower as the soon-to-be jazz stars bring it to a mellow ending. The music is improvisational verse fused with rich harmonies and a taste of world music. What a ride with Lloyd on tenor saxophone and flute and Jarrett playing the keys and plucking the inner strings, with the intuitive weaving of McBee and DeJohnette. "Forest Flower" was one of the first jazz recordings to sell a million copies, and the quartet was the first jazz group to appear at the famed Fillmore Auditorium in San Francisco.
Fifty years after his immergence and impact on the jazz world, Lloyd returns to Gotham for one of his rare appearances Jan. 29 and 30 at Jazz at Lincoln Center's Appel Room (60th Street and Broadway) for two shows each night at 7 p.m. and 9:30 p.m.
The 2015 National Endowment for the Arts Jazz Master will continue his musical exploration with his unique group the Marvels, featuring noted guitarists Bill Frisell and Greg Leisz, and his favorite quartet partners, bassist Reuben Rogers and drummer Eric Harland. Together they have a way of offering dynamic musical ideas that move with exciting riffs and open melodies.
Last year he signed with Blue Note Records (his former label from over 30 years ago) to record "Wild Man Dance," a live recording of a longform suite commissioned by the Jazztopad Festival (Wrocĺaw, Poland in 2013).
Earlier this month, Lloyd and the Marvels released their second Blue Note release, "I Long to See You." This is a collection of 10 songs that range from traditional hymns to anti-war folk protests to re-envisioned Lloyd originals from his earlier recordings such as "Sombrero Sam" and "Of Course Of Course."
Whenever Lloyd performs, he makes jazz history. He continues his early reputation for forming definitive small groups. There is a free pre-concert discussion, nightly, at 6 p.m. and 8:30 p.m. For tickets, call 212-721-6500 or visit www.jazz.org.
Brooklyn hasn't lost its panache for great jazz. Feb. 4, the borough will welcome the New Cookers to the Dweck Center at the Grand Army Plaza Library (7:30 p.m.) for a free concert. The group's name is taken from trumpeter Freddie Hubbard and his all-star lineup, which recorded the legendary 1965 live album set "The Night of the Cookers" (Blue Note, 1965) at Brooklyn's then-popular Club La Marchal.