In furs volume is key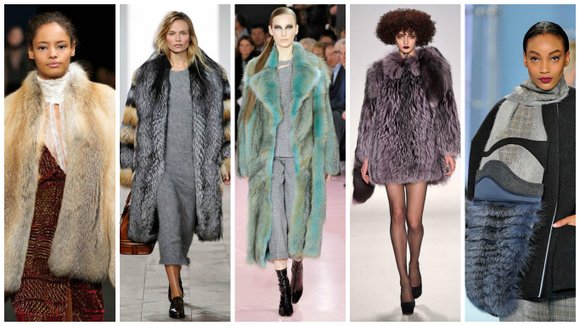 For furs this season, the bigger the fur the better, especially if you are out and about in this often shivering-cold weather. Beauty note: Makeup foundation or a nice face crème can help to protect the exposed skin on your face. Be careful in the winter sun and the glare of the snow. Sunglasses are helpful. To avoid dryness, oil your lips or wear lipstick. Apply a bit of cream or oil on your hands under gloves. To keep warm, bundle up and layer up. A fabulous fur can really keep you warm!
In furs, longer coats, blanket coats and wrap coat are news. Noteworthy furs, including mink, fox, Asiatic raccoon and coyote, define most collections. The look is oozing with luxury and warmth. Volume furs are across the board in vests, scarves, hats, gloves and jackets.
For technique, all sorts of things are happening. Designers can show their furs in various styles. Color treatments on furs are popular. Whether your fur is dyed, color-blocked, printed, shirred or shaved, the fact that it is specially treated makes it fashionable now.

Collars are wide, skinny, shawled and scarfed. Furs are long or short and in three-quartered lengths. Some sleeves are different colors, and even different furs. Cloth coats are often trimmed with fur on the collar, sleeves and hemline. Accessories such as hats, scarves, belts, gloves, shawls, shoes and boots are all spotted on the runway in furs.
For women, shearling coats, jackets and vests have grown in popularity. It happens to be extremely warm, is often more affordable and the fact that it is reversible allows you to have two coats in one. Shearling has also received a glamorous reboot. You'll see that designers play with both sides, the leather/suede and fur side, which offers a great look.

Detail changes are evident in leather, showing that the skin is lacquered or reworked with numerous color finishes, even including metallic accents. For a gentle draping in soft silhouettes, leather is shaved into a textile-fine finish. Texture is the focus as designers move beyond traditional sheepskin. They use Tibetan or Mongolian lamb or goat to create bold and exciting new looks.