Casually elegant 2016 shapes for day or night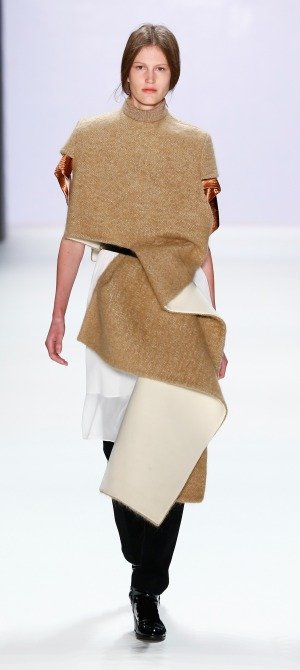 Young designer Annelie Schubert's collection was sponsored and presented by Mercedes Benz and Elle Magazine for the Berlin spring/summer '16 shows. Schubert focuses on outerwear, with coats that are mostly unconstructed in shape with specific cuts and enhancement on the sleeves. Some of her cloaks are long in the front and cut to the waist in the back with additional fabric such as velvet attached, often in a coordinating color. There are also sleeve details that enhance the stylishness of the coat. Stand-up collars are the norm in her styles. She showed a long scarf-styled piece that wrapped around the body in a crisscross fashion with a belt. The look is casual chic.
A graduate of the University of Applied Science in Hamburg, Germany, Schubert holds a Bachelor's degree in fashion design. She received her Master of Arts from Berlin Weissensee School of Art. To gain experience, she interned as a design assistant at Haider Ackermann in Antwerp, Belgium. In 2015, she became the recipient of the Grand Prix du Jury Premiere Vision of the 30th International Festival of Fashion and Photograph. Look out for her in the future.
Aje., an Australian women's label, is created by a talented duo of designers who hail from two different realms of the creative spectrum. The team includes best friends Adrian Norris and Edwina Robinson, who delivered an exceptional collection for Berlin's 2016 Fashion Week that was very well received. The Aje. label is dedicated to creating accessible luxury for fashionable, strong, elegant women with an adventurous spirit.
The Aje. label was born in the winter of 2007. The timing was crucial in the creation of the label. Norris had just finished studying at an acclaimed Venetian art school, and Robinson had departed from a job at a fashion magazine. Their experience and collaboration paid off, and the label's fashion creations illustrate a pure reflection of the duo's terrific teamwork. Their clothes are off-the-cuff and on-the-edge. The looks are easy to wear, fashionable and functional. It's really all that matters.