Frederick McKinley Jones, refrigeration genius
Herb Boyd | 7/7/2016, 12:49 p.m.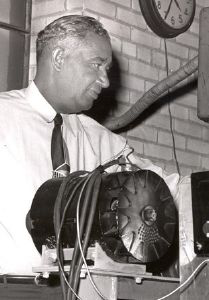 In the current edition of Smithsonian magazine (July/August 2016), basketball immortal Kareem Abdul-Jabbar was asked which African-American inventor he believed warranted more recognition. He answered Frederick McKinley Jones. Who? Abdul-Jabbar went on to explain who he was. Jones, he said, "changed the structure of America through innovations in refrigeration. He taught himself mechanics and electronics and in 1935 created an air-cooling device that allowed trucks to carry perishable foods. He received 61 patents, including those for a portable X-ray machine."
Was there more to this inventor, something more we could add to Abdul-Jabbar's brief profile? Indeed, there was.
Drop Jones' name in Google and there is a long Wikipedia entry. Listed among the references is the National Inventors Hall of Fame. Go to its site and Abdul-Jabbar's citation is confirmed, noting that Jones, who was inducted into the organization in 2007, invented the first successful system for mobile refrigeration. His invention eliminated the need to use ice and salt to preserve foods for transport, thereby extending the delivery distance.
Rather than rewrite or paraphrase the background of Jones' breakthrough invention, here is how the NIHF includes it online. "In the summer of 1938 (or 1928?), local merchant Joseph Numero made an offhanded promise to a trucking company to build a refrigerated truck that would not fail when subjected to the normal bumps and vibrations that occur during shipping. Jones, working for Numero, designed a durable, small unit with a compressor mounted under the trailer that was powered by a four-cylinder engine. Used in trucks, railroad cars, ships and planes, Jones' technology revolutionized the distribution of food and other perishables. It made fresh produce available anywhere in the country year-round, changing Americans' eating habits. Jones and Numero went on to found Thermo King Corporation to produce the mobile refrigeration device. Thermo King became an international corporation and had over $1 billion in annual sales when it was acquired by the Ingersoll-Rand Company in 1997."
Born May 17, 1893, in Cincinnati, Ohio or Covington, Ky., depending on the source, Jones was 9 years old when he was orphaned and raised by a priest in Kentucky. He was in the sixth grade when he left school, and by the time he was 11, he had returned to Cincinnati. As a teenager, he had a series of menial jobs, including as a janitor and as an automobile mechanic. Once involved in mechanics, he read extensively and this bolstered his innate intuition and inventive mind. In 1912, he moved to Minnesota, where he was employed as a mechanic on a large farm.

After military service during World War I, Jones returned to Hallock, Minn., and resumed working as a mechanic. When not busy as a mechanic, he taught himself electronics and became so efficient that he later built a transmitter for the town's new radio station. He also invented a device that combined sound with motion pictures, accentuating some of the pioneering work done by Thomas Edison. It was as a result of this invention that he was hired by Joseph Numero of Minneapolis in 1930 to improve the sound equipment made by his firm, Cinema Supplies, Inc. His invention made it possible for movie projectors to play back recorded sound—that is, talking pictures. Eventually, Numero sold the sound company to RCA and formed Thermo King with Jones.