Hastings qualifies for US Olympic Team
Lois Elfman | 7/7/2016, 11:52 a.m.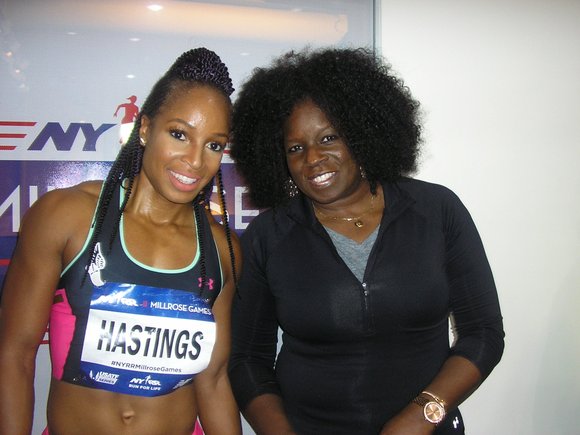 When Natasha Hastings woke up Monday morning, she finally exhaled. Sunday, Hastings, a graduate of A. Philip Randolph Campus High School in Harlem, earned a spot on the U.S. Olympic Team by finishing third in the women's 400 meters at the U.S. Olympic track and field trials in Eugene, Ore.
"While it was a very awesome weekend, it was definitely stressful," said Hastings, who was born in Brooklyn and grew up in Brooklyn and Queens. "It took a tremendous amount of focus."
Nursing a hamstring injury sustained a few weeks ago, Hastings had to carefully pace herself but still not hold back in the first round and semifinal at the Olympic trials. Her experience helped her know what was necessary to get through the qualifying rounds.
"That allowed me to unleash in the final," said Hastings. "I went into the final with the mindset that I couldn't have any fear. I couldn't run concerned about my hamstring giving out on me. … I'd rather be aggressive and it work than be conservative and it not work. I stuck to my usual race plan. I went out hard. The finish needs some work, but I was able to hold on and secure that final spot going to Rio."
Hastings fell as she crossed the finish line and was laying on the ground waiting for the scoreboard to show the results. It was only a few seconds, but it seemed like an eternity. When she saw she was in, she rejoiced.
It's a second Olympics for Hastings, who competed in the 4×400 relay in Beijing in 2008, but didn't qualify for the 2012 Games in London. She seriously considered giving up competitive track but ultimately made a commitment to stay and give the sport her all.
"I think God has a plan and nothing before its time," said Hastings, 29, who saw other longtime competitors fall short at the trials. "Knowing I'm one of those veterans … I have an appreciation for my success."
After a couple of days of rest and rehab for the hamstring, Hastings will be back at training. Queens native Phyllis Francis finished second in the 400 meters and is also headed to Rio. Monday, Ajee Wilson of Neptune, N. J., secured a spot in the 800 meters. It is a first Olympics for Francis and Wilson.