From the 'Minions' team, 'The Secret Life of Pets'
Lapacazo Sandoval | 7/7/2016, 10:59 a.m.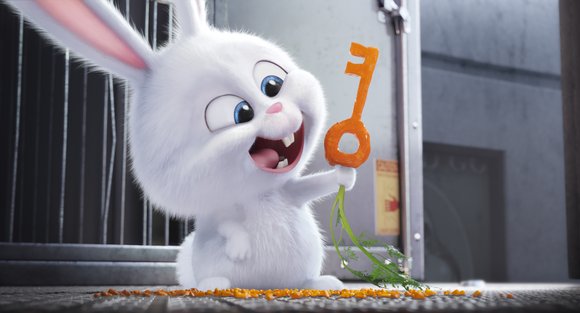 "The Secret Life of Pets" is the new animation family comedy from Illumination, the company that unleashed those clever little yellow Minions on a generation. The creative brain power is now poised to do the same, this time exploring the secret world of regular cats, dogs and other pets who get up to major mischief while their unsuspecting owners are at work.
This lovely comedy has "feel good for the entire family" stamped on every frame, but there are some very clever moments that deliver a more sophisticated level of funny, including a scene with a posh poodle that loves the sound of death metal.
The plot isn't complicated but it's charming. The very lovable canine Max (voiced by Louis C.K.) has a major issue when a rescue dog, Duke, (Eric Stonestreet) is brought from the pound by his loving mistress.
Dogs will be dogs, and soon these two puppies carry the brawl into the streets, getting lost in Manhattan and there, together, they face all manner of NYC obstacles, from scrappy, streetwise alley cats to a group of sewer-dwelling pets who were all "flushed by frustrated and heartless" pet owners. The group of "flushed" misfits are led by the psycho bunny Snowball (Kevin Hart, who is four-star hilarious).
This adorable, modern tale is codirected by Chris Renaud, best known for the billion dollar "Despicable Me" and its sequel franchise. "The Secret Life of Pets" is not a perfect film and those who study structure will point to the lagging in the film's middle act and its desire to overcompensate with 3D chase scenes. Leave it to the women, even in the pet world, to find a solution.
Max's smitten next-door neighbor Gidget (Jenny Slate) mounts a hilarious rescue operation, bringing in some of the best new characters any wacky rescue attempt could ever hope for, including the voice of Albert Brooks as the hawk Tiberius, who is torn between helping the pets and eating them.
"The Secret Life of Pets" works, in large part, because of the filmmakers' spot-on observation of pet behavior. It's the stuff pet owners see every day, such as cats squeezing themselves into random receptacles and adorable dogs chasing aimless balls. This behavior is what delights pet owners who fill YouTube with adorable videos.
The sound track is catchy, with choices that range from the Beastie Boys' "No Sleep Till Brooklyn" and Bill Withers' "Lovely Day."
One of the best reasons to duck into your air-conditioned movie theater this summer is "The Secret Life of Pets."