Famed Tuskegee Airman and educator, Dr. Roscoe C. Brown Jr. passes at 94
Herb Boyd | 7/7/2016, midnight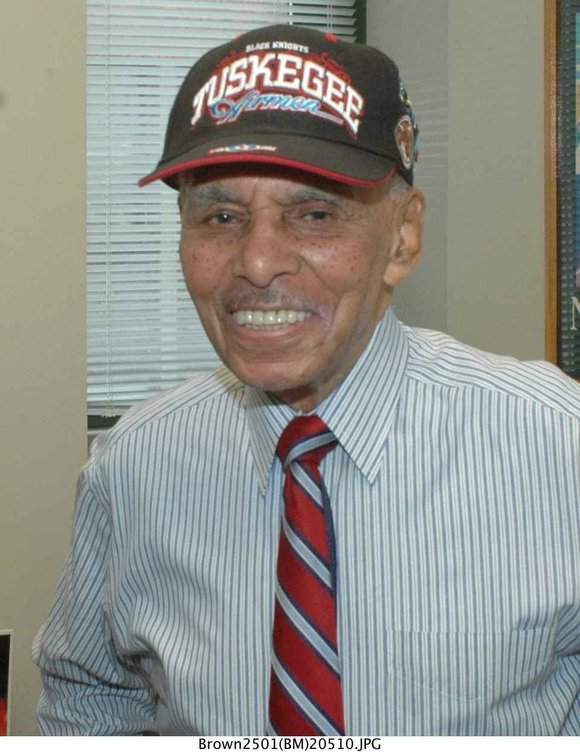 "I pulled up at him in a 15-degree climb and fired three long bursts at him from 2,000 feet at 8 o'clock to him," Dr. Roscoe C. Brown, Jr. said, recalling a dog fight as a Tuskegee Airman against a German jet during World War II. "Almost immediately, the pilot bailed out from about 24,000 feet. I saw flames burst from the jet orifices of the enemy aircraft."
That report by Brown after the encounter is part of military lore, and so now is Brown, who died Saturday night, July 2, at Montefiore Hospital in the Bronx. He was 94.
"Two weeks ago he fell and broke his hip," said former Mayor David Dinkins, "that's why he was in the hospital. He's my hero and I always call him my 'fighter pilot.'"
Dinkins also reflected on Brown as an educator, particularly during his tenure as president of Bronx Community College and as a professor at New York University. "The doctorate he received, unlike mine, was not honorary," Dinkins joked. "He earned his. He was a smart rascal."
And a smart Roscoe, too.
Born March 9, 1922, in Washington, D.C., Brown was the younger of two children. His father, Dr. Roscoe C. Brown Sr., a member of FDR's "Black Cabinet," worked as a public health specialist and his mother was a teacher. After graduation from Paul Laurence Dunbar High School, he received his bachelor's degree from Springfield College in Massachusetts in 1943.
At a very early age Brown wanted to fly planes after visiting the Smithsonian Institution and seeing Charles Lindbergh's plane. He was in his 20s when he joined the Air Army Corps and began his illustrious stint as a Tuskegee Airman. There are several historic photos of First Lt. Brown seated in the P-51 Mustang adorned with a red tail. It was equipped with six .50-caliber M2 machine guns with which he was the first of the Black pilots to shoot down a German jet. Another photo shows him in gear atop a plane discussing strategy with First Lt. Marcellus G. Smith and Col. Benjamin O. Davis in Ramitelli, Italy in March 1945.
That photo was taken shortly after Brown was one of three members of the 332nd Fighter Group credited with shooting down a Messerschmitt Me 262 jet fighter. Subsequently, Brown was promoted to captain and squadron commander and later received the Distinguished Flying Cross, the Air Medal with Eight Oak Leaf Clusters and the Presidential Unit Citation.
Home from the service after flying 68 combat missions, Brown attended New York University, where he earned an M.A. in 1949 and Ph.D. two years later.
With a freshly minted master's degree, he was employed as a social investigator with New York City Department of Welfare. He was an instructor in physical education at West Virginia College until 1948. While working on his doctorate in 1950, he was appointed director of the Institute of Afro-American Affairs and a professor of education at NYU. Brown would be in this post for the next 27 years.