Calls for calm as hundreds arrested in protests nationwide
Euan McKirdy, CNN | 7/11/2016, 2:30 a.m.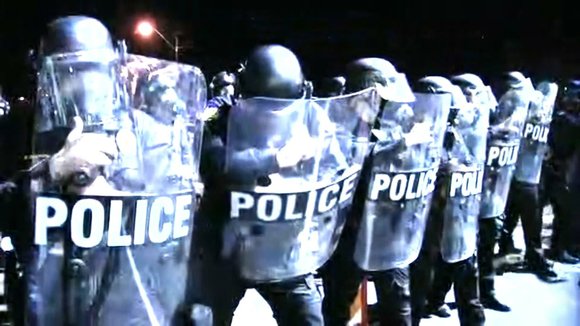 (CNN) -- Authorities, protest leaders and the mother of one of the victims have appealed for calm as over 300 demonstrators, angry at the latest killings of black men by police officers, were arrested in a weekend of intense, sometimes violent nationwide protests.
Late Sunday and into Monday morning, almost fifty protesters were bundled into the back of police vans in Baton Rouge, Louisiana, while a handful in Atlanta, Georgia were also arrested.
The mayor of Memphis, TN, another city where demonstrators took to the streets over the weekend, said he remained "hopeful" that his city's peaceful protests Sunday would signal a willingness of Black Lives Matter activists and police to hold a "respectful" dialog.
"We are here to fully support those conversations -- and my door has always been open," Mayor Jim Strickland said Sunday night in a statement.
"But we want to do it in a legal way, as well. Let me be clear: you can exercise your First Amendment rights without breaking the law."
Valerie Castile, mother of Philando Castile, one of two African American men killed by police last week in separate shootings, sent a statement to media via her attorney Sunday.
"We urge all people to remain peaceful in all demonstrations throughout our community and our nation," the statement read.
"When demonstrations become violent, it disrespects my son and his memory. Philando was a man of peace and dignity.
"I ask you to at all times remain peaceful in your expressions of concern regarding his death at the hands of the police. I promise that we will not rest until justice prevails."
In Boston, organizers for Sunday's demonstration announced on Facebook: "This is a peaceful protest. Please keep violence at home."
Despite the calls for calm from all sides, at least 312 people have been arrested over the weekend at protests from New York to Chicago, and in St. Paul, Minnesota, and Baton Rouge, Louisiana, where two black men, Philando Castile and Alton Sterling, were shot to death by police.
The two men's deaths in turn spurred a lone shooter in Dallas to kill five police officers during a Black Lives Matter protest.
Prominent activist arrested
Black Lives Matter activist DeRay Mckesson, a public school administrator who is considered among the movement's loudest voices, was among 125 people arrested Saturday night in Baton Rouge, where Alton Sterling was shot and killed last week.
The activist was walking along a major roadway and live-streamed his arrest for obstruction on Saturday on Periscope. Another 124 protesters were arrested.
In St. Paul, about 102 protesters were arrested. They were demonstrating against the killing of Philando Castile, a school nutrition services supervisor. Last week, Castile was driving a car and was with his girlfriend, Diamond Reynolds, when they were pulled over for a broken taillight.
Reynolds posted a Facebook video of the aftermath of Castile's shooting. Castile told the officer he was armed and had a concealed carry permit, she said. The officer asked him for his license and registration and as he went to retrieve those items, the officer shot him multiple times, she explains as the recording continues.