Off-duty officer stripped of badge and gun in Brooklyn motorist death
By SHANICE LEWIS and ZARIA HOWELL, Additional reporting by NAYABA ARINDE | 7/14/2016, midnight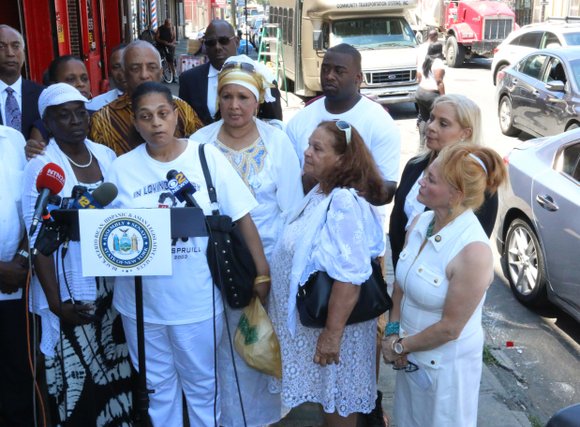 As protests sweep the nation for the Black lives lost last week, family and friends of Delrawn Small gather to say goodbye to the Brooklyn father who was fatally shot by an off-duty NYPD officer.
July 12, 2016, the New York State Black, Puerto Rican, Hispanic and Asian Legislative Caucus held a press conference in East Brooklyn. Specifically, the conference took place at the site of Delrawn Small's death by off-duty officer Wayne Isaacs.
Earlier this week, officer Isaacs was stripped of his badge and gun after video released by the NYPD contradicted what Isaacs said happened before he shot Small shortly after midnight July 4.
Victor Dempsey, Small's younger brother described his reaction to the video as "bittersweet."
"It was a relief to know that everyone is going to see what really happened, but at the same time seeing my brother fight for his life and in that condition bothered me," said Dempsey. "I've never seen him that weak."
The video shows Small being shot within seconds of approaching the driver's side of Isaacs' car. He crumples to the ground as he tries to run away, gets back up and then collapses in front of a parked car.
Isaacs, 37, a three-year veteran at the 79th Precinct exits his car and walks over to where Small is laying while tucking his gun back in his waistband. He walks away and proceeds to make a phone call while Small lay in the street. Isaacs' can be seen pacing back and forth while on the phone before the video ends.
Small and his family came almost collided with Isaacs while driving on Atlantic Avenue. Irate that Isaacs nearly seriously injuring his family, Small decided to confront him about his reckless driving.
Small, 37, was accused of punching the off-duty officer twice in the head, to which Isaacs responded by opening fire, striking Small in the chest and head.

Tuesday city officials joined Dempsey at a press conference to address the recent actions taken towards Isaacs and the corruptions within the criminal justice system. Surrounded by Small's memorial, a handful of elected officials and family members of police shooting victims spoke about Small's unlawful death. The speakers also addressed the racism in the United States judicial system and the protection of murderous police officers under "the blue wall."
"We ask the police officers to step forward from behind that blue wall, to change the culture of how we do policing in New York City, in New York State and in America," said Assemblyman Nick Perry. "Until we do that, no real reform will have come."
East New York Assemblyman Charles Barron expressed the importance of remaining vigilant through this time.
"We've seen videos before," said Barron. "We've seen the video of Eric Garner and they walked. Way back we've seen the video of Rodney King and they walked. So, we know that this video clearly shows that the police plainly lied."

Barron also took the time to express condolences to the family of Micah Xavier Johnson stating, "He has a family, too. He's a product of this American racist society."