Crisis America: Violent killings grip nation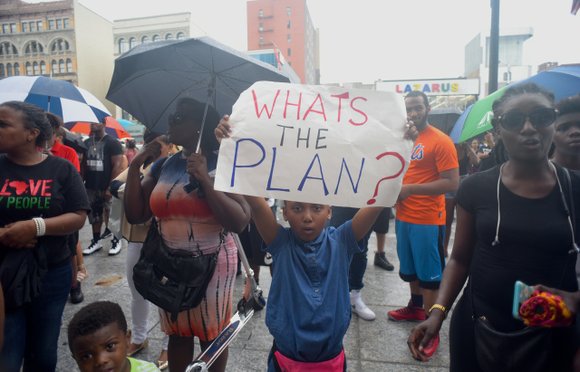 Crisis America. Eight recent shootings in four days over the Independence Day weekend has put police brutality and the fractured relations between metropolitan police departments and Black and brown communities nationwide under the global spotlight.
The on-video police shootings of unarmed Delrawn Small (New York), Alton Sterling (Baton Rouge), and Philando Castile (Minnesota) provoked national outrage, marches and emotional demands for justice. None of the officers involved have been arrested. Thursday, July 7, 2016, a so-called sniper— one Micah Xavier Johnson, 25—rocked Dallas as he allegedly shot 12 police officers, killing five.
The army veteran, who had been deployed to Afghanistan, reportedly told cops that he was tired of the police killings of Black people and wanted to take action against white people, cops in particular. In an unprecedented move, as Johnson held the city at bay, law enforcement sent in a bomb attached to a robot to kill the alleged shooter.
"This raises so many questions," stated Marquez Claxton, retired NYPD detective and founder of the Black Law Enforcement Alliance. "Without arrest, trial or conviction, this man—Micah Xavier Johnson—was blown up. The last time law enforcement did this was during the 1985 bombing of a house in Philadelphia, which killed 11 men, women and children from the MOVE organization. The resulting fire burned down 61 homes, and many people were injured. Is this where we are heading as a society? Regardless of what you think about Mr. Johnson, the way he was killed is disturbing on many levels."
Assemblyman Charles Barron stated, "While every one is expressing their condolences about the Dallas cops, no one has yet expressed their condolences for the family of Micah Xavier, a product of American racism. His family is innocent, and they lost a loved one too. But I will express my condolences to his family."
Twenty-four hour news coverage has been given to the five slain cops since the shooting spree. Black Lives Matter has had to vigorously defend itself, because the shootings happened at the end of one of its peaceful anti-police violence rally, from implications that it is somehow to blame.
Grassroots activists have taken up the mantle to speak out about the many recent police killings nationwide of unarmed Black men and women, with no level of accountability, as the real cause of such racial angst.
The country is on tenterhooks. Last week's unprovoked, caught-on-camera fatal shootings of Alton Sterling and Philando Castile has further enraged an already angry Black community.
Hastily arranged town hall and community meetings are being held, from one hosted by President Barack Obama to those held by mainstream and cable TV, everyday grassroots organizers, religious groups and informed and on-the-ground activists groups such as Man UP Inc., Life Camp and GMACC.
Meanwhile, family and friends buried Delrawn Small, who was shot to death by off-duty cop Wayne Isaacs on Independence Day. A video showed that Isaacs simply shot the unarmed father in front of his family as he approached Isaacs' car after a road-rage incident in East New York. The video contradicted Isaacs' claim that Small had punched him. The Brooklyn cop has been stripped of his badge and gun.