Crisis America: Violent killings grip nation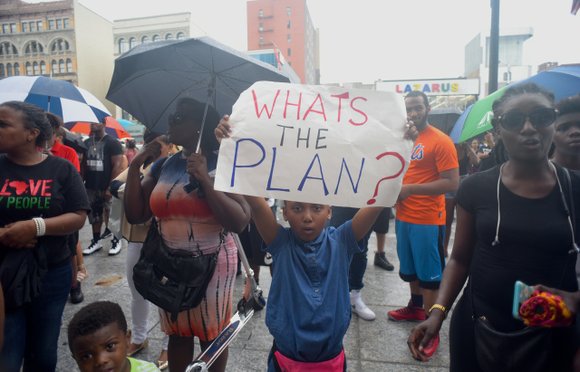 The Amsterdam News asked the police press office if the NYPD was indemnifying the officer, meaning providing assistance as he was about to defend his position.
The response from One Police Plaza was, "This is an ongoing investigation. No determination has been made."
The Amsterdam News asked this follow-up question: "Is it true that when an off-duty police officer takes police action, he or she is automatically on duty?" There was no response.
Assembly member Michael A. Blake declared, "After viewing the recently released video of the shooting death of Delrawn Small in Brooklyn on July 4, it is clear to me that off-duty officer Wayne Isaacs needs to be criminally charged for this killing. Not only did Isaacs use abhorrently excessive force when he shot Small point blank, but then, he lied to cover his mistakes. The Washington Post cited Isaacs' statement describing Small punching him before he opened fire, but video evidence revealed the inaccuracy in that story. The video does not show Small punching Isaacs, but it does show Small staggering and collapsing in the middle of the street within a second of arriving at Isaacs' car. The disregard for life, honesty, truth and justice must end. I am grateful that Attorney General Eric Schneiderman is investigating this matter. But let me be clear, the only thing that matters right now is justice, and without a criminal prosecution, the system would be proving again that our lives don't matter. As clearly as I can say it: #BlackLivesMatter and #EnoughIsEnough!"
Tuesday, the New York State Black, Puerto Rican, Hispanic, and Asian Legislative Caucus joined Victor Dempsey, brother of Delrawn Small, Brooklyn NAACP, the family members of victims of police shootings and community leaders at a press conference at the East New York Atlantic Avenue site where Delrawn Smalls was gunned down. They also responded to the shootings in Baton Rouge, Minnesota and Dallas. They called for "a partnership to effect immediate and meaningful criminal justice reform."
Claxton told the Amsterdam News, "With the killings of both Alton Sterling and Philando Castile, there will continue to be a debate on justified or not justified. This debate does not address the larger question of whether the officers, based on racial prejudice, created the environment and circumstances for a fatal shooting. The painful history of fatal police encounters with Black men shows that the current police model does not presuppose Black innocence or require de-escalation and disarming tactics in communities if color."