Gardener at the East New York Farmers Market heals residents with Seeds of Life Enterprises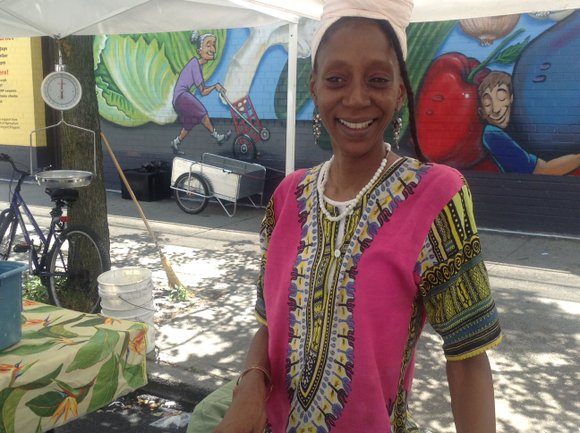 Not all doctors wear white lab coats and have stethoscopes draped around their necks.
Brooklyn gardener, Lyeta Herb, who has developed a line of natural healing tonics to cure arthritis, lower high blood pressure and detoxify the colon, commonly wears a bright colored dashiki. Herb adorns her neck with white beads and her dreads are wrapped in an ivory scarf.
"I meet people here with a million problems and I am the doctor," Herb said while serving a customer a free sample of her renowned pineapple-ginger juice."They know what I'm here for. My table is stocked with all kinds of medicine and they want it."
Herb is the CEO of Seeds of Life Enterprises. Her workspace at the East New York Farmers Market in Brooklyn is filled with bottles of healing tonics and decorated with wooden carvings. She also has a tray of her old-fashion, organic, ginger with blueberries cake, which sells for $3 per slice.
Dozens of people who travel to the farmers market at 613 New Lots Ave., Saturday mornings ask Herb for advice. Other residents often need to calm their nerves or have issues with their prostates.
"I'll make the [juices] overnight," said Herb, who dedicates four hours to preparing the drinks. "I make four gallons at one time. I have to let it cool, strain the flowers and juice the ginger."
For nearly five years, she has worked as a gardener in East New York. At 21 years of age, Herb became a vegetarian, and she swears by the nutrients that are provided in fresh fruits and vegetables.
"There are GMOs, genetically modified organisms, within the food, and I saw the foods begin to change," Herb said. "The taste and flavor of it were going down. I wanted to provide my customers with fresh, wholesome foods, so I began to grow it."
In the garden, Herb occasionally talks with the budding plants.
"Grow abundantly for me," she says to the seasonal fruits and vegetables. "I love feeding the plants … and feeling their energy. It's important to be connected to the universe."
Herb uses water consciousness, a method developed by the Japanese scientist Masaru Emoto, which revealed how thoughts and vibrations affect the molecular structure of water.
"Do you know water has a memory?" Herb asked. "Water memorizes everything [it] sees, hears or anything around it."
Raised in East New York, Herb picked up the craft of gardening from her grandfather.
"I was his right-hand girl in the kitchen," Herb said. "My grandfather was a farmer when he was a little boy. His father owned very big land with groves of orange trees and grapefruit trees. When he came up north to New York, he still had that growing in his soul,"
Herb's grandfather filled up his station wagon and sold fresh produce in front of city hospitals.
In food deserts such as East New York, communities are taking a stand in providing their own produce. The community-established gardens are an effort to obtain food justice.
"It's one of those communities that are deprived of vegetable markets," Herb said. "It's [the market] able to be affordable, [it is] not overpriced organic food."
Herb serves as the president of the Grow to Share program at the Ashford Street Abundance Garden in Brooklyn. Her day-to-day activities with at least 30 youth volunteers is detailed in a fringed, black and white notebook.
"It's a new year," Herb said. 'Spring is in and it's new vegetation. It's a good feeling to be in the market."
She advises residents who want to become healthy this summer to plant their own fruits and vegetables.
Next week, Herb will return to her garden and market to offer a natural remedy for bodies that ache because of illness.
"Their medicine is in nature," she said. "Those are the people that keep me going. God has the medicine to heal them. That's what gets my juices flowing."