Join The Club! Hair news now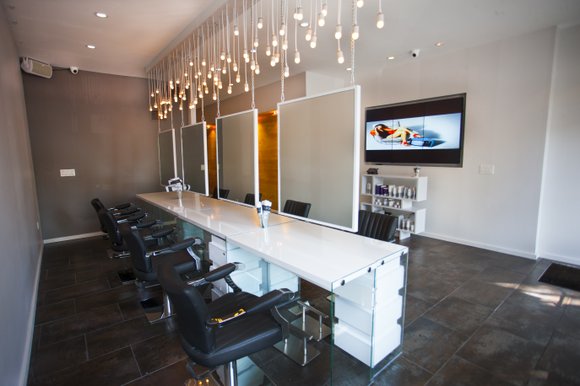 Opening day at The Club by Dominik Mager, an upscale hair salon conveniently located at 2276 Frederick Douglass Blvd. near 122nd Street, was a huge success. And from July 11-16, they are offering a 20 percent discount on all services.
A full-service salon, The Club offers a diversified staff of professionals, specializing in perms, braids, weaves, color, conditioning, cuts, shampoos and blow drying. The salon is owned by three partners, Dominik Mager, Radha Nadkarni and Raju Dave. Originally from Stuttgart, Germany, Mager has 16 years of hairstyling experience from working in European hair salons. He has worked with top models and designers and is currently on speed dial to several A-list celebrities. Nadkarni is a fashion designer and owns an international children's clothing line, which Trends will feature in another article. Dave is the team's IT specialist and keeps the trio on the cutting edge of technology. His technical expertise eases the task of scheduling online appointments at www.theclubbydm.com. The trio met as neighbors in their apartment building. Mager was the neighbor who did everyone's hair in the building right out of his apartment.
What's new for summer? The look is naturally smooth, beach wavy and often braided. "You really can't go wrong with your hairstyle this summer," said Mager. "Whatever makes you feel comfortable works." At The Club, they will show you how to maintain your hairstyle. Although they favor a product line by Brocto, the salon's professional stylists utilize a variety of other products. Remember, brushing your hair is good for it, but you must use the right hairbrush for your hair. Prices are somewhat affordable.
As a venue, The Club can also be rented for corporate or personal events, parties or fashion shows. They also highlight the work of local artists. The Club is open Tuesday through Friday, 11 a.m. to 7 p.m.; Saturday, 10 a.m. to 6 p.m.; and Sunday, 10 a.m. to 5 p.m. The Club's phone number is 212-222-1346. Stop in and let them know you read about them in the Amsterdam News.