New York Liberty take a stand
Lois Elfman | 7/14/2016, 12:54 p.m.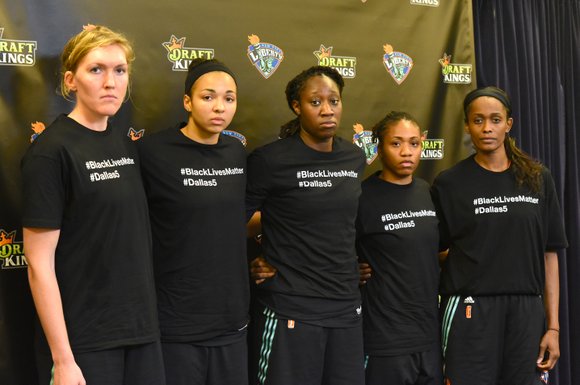 Sunday afternoon, the New York Liberty pulled out a 75-65 win over a scrappy San Antonio Stars team. For much of the game, the Stars kept within five points of the Liberty. New York finally found its mojo in the fourth quarter, and the crowd erupted after guard Brittany Boyd stole the ball and made a basket.
It was a relatively quiet game for the starters, but the bench stepped up in a big way. Amanda Zahui B. scored 14 points and pulled down four rebounds. Kiah Stokes had eight points and eight rebounds, and Shavonte Zellous had 10 points.
But the biggest story was a powerful statement that Liberty players made wearing T-shirts that displayed #BlackLivesMatter #Dallas5. As veteran forward Swin Cash noted after the game, the majority of players in the WNBA are African-American, and having the platform that professional basketball provides compels her to speak up about racial issues and call for social justice and positive change.
"For us collectively as a group, we decided that it's something we needed to do," said Cash. "I'm happy that we're having the conversations. That people are wanting to talk and have this dialogue about what's happening."
"The more that you're able to voice your opinion and how you feel, the more that other individuals sit and think about it," said Tina Charles. "We're not just athletes. We have everyday lives outside of basketball. We have families, close friends that are affected by everything that's going on."
"If you want change, then we have to have a voice," said Tanisha Wright. "We've got to be willing to not be popular in some people's eyes. We've got to be able to voice the injustices. Until people realize the injustice going on with Black lives, then all lives can't possibly matter. Until that happens, then we do need people to stand up, understand and express that Black lives are just as important."
Stokes said they are also mourning the loss of the five police officers killed in Dallas.
The Liberty played a morning game against the Atlanta Dream yesterday before heading to Minnesota for a Friday night game against the Lynx. The team returns to Madison Square Garden Sunday to take on the Connecticut Sun.