Jail killer cops: Community shows how 'Black Lives Matter!'
SIMONE R. JOHNSON and NAYABA ARINDE | 7/21/2016, midnight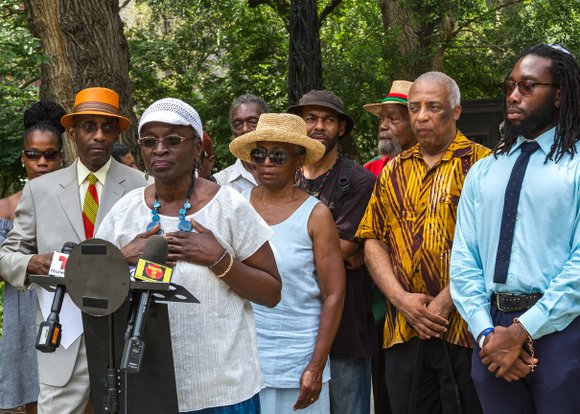 "If you want to address the unrest in the communities across the nation, just jail killer cops," stated Assemblyman Charles Barron, as he and other community leaders, Councilwoman Inez Barron, Dr. James McIntosh of CEMOTAP, Viola Plummer of the December 12th Movement and Professor James Small of WADU, held a press conference on the state of emergency in the Black community.
"We have to walk around with you (police officers) heavily armed and racist," said Barron. "Nothing is causing them to shoot police. It's the system and you murdering us and the system letting you go."
Within the past few weeks, the people of this nation have turned their heads to a new victims. In Dallas, five police officers were reportedly killed by Micah Xavier Johnson. In Baton Rouge, three police officers were allegedly gunned down by Gavin Long from Kansas City, Mo. These alleged shooters were returned vets from Afghanistan and Iraq, respectively, apparently disaffected upon their return home.
Both men state on previously recorded videos that they were not affiliated with any group or movement, but were disillusioned by the current state of affairs. These police killings happened in the wake of the videotaped police murders of unarmed Black men around the United States, most recently, Alton Sterling in Baton Rouge, Philando Castille in Minnesota and Delrawn Small in New York. None of the officers in the these killing have been arrested or even penalized in any way, shape or form. The Black community has been at its rawest and most vocal these past few weeks and has expressed its feelings about law enforcement and the criminal justice system through protests, social media and an ongoing discussion about "Buy Black" and boycotts, including this past Monday, July 18, a day of absence.
People in the Black community have come together not only to morn their dead but also to organize protests that demand justice and change. Even Bloods and Crips, noted adversaries, are joining flags and holding dialogue. As a consequence the community is met with increased and intensified policing that only heightens the rage and mistrust.
Assemblyman Barron stated, "It's alright for them to kill in imperialistic wars, only to come home and see their Black men are being killed by the very people that they were abroad supposed to protecting. You train our young Black men to go kill people in Iraq and Vietnam who never called us the n-word, then they come back and you're still killing them. We wanted to highlight contradiction. We don't want the police to go around like they're the victims. What do you think we have to tell our Black babies before they leave the house? If they violate your human rights, comply. Our brother in Minnesota complied and he's dead, right in front of his lady who showed the world what happened."
With the killings now coming from both sides, the president and other politicians have encouraged dialogue on the subjects of law enforcements and Black people. Attorney Roger Wareham of the December 12th Movement International Secretariat read a statement on the matter. "The videotaped police murders of unarmed Black men have created a crisis in Black communities around the United States," he said. "The history of failure by the criminal justice system and law enforcement bodies to hold those police responsible for their crimes has inevitably unleashed a rage among Black youth, particularly Black men."