Young athletes root for Justin Gatlin
Simone R. Johnson | 7/21/2016, 1:25 p.m.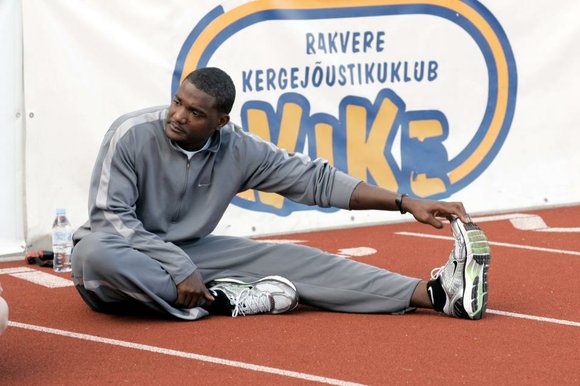 In 90-degree weather young athletes stood on the steps of City Hall in anticipation for their hero, Justin Gatlin, an American sprinter who won the Olympic gold medal in the 100-meter dash in 2004. His personal best is 9.74 seconds, and he won the World Indoor 60-meter dash twice.
This year he plans on taking his second gold in Rio. Like many of the children on the steps, Gatlin is also a Brooklyn native.
As he arrived, the kids lifted their "Go Justin" signs and cheered as though the security clearance box Gatlin was going through were a finish line. He greeted the kids with hugs and handshakes, and many selfies were also taken.
The young athletes were from many different teams around the city. The teams included the Zodiac Track Club, Pegasus 9 Track Club and the Bronx Tiger Track Club, all from the Bronx, and the NYC Junior Sprinters and New York Road Runners from Manhattan. But the kids were not the only ones there to show support for Gatlin.
District 12 Council Member Andy King and Borough President Eric L. Adams were also in attendance. King presented Gatlin with a gift of art that displayed all of Gatlin's success and achievements.
"Gatlin proves that you need the same skills to be an Olympian that you need in life," said Adams. Referencing the children behind him, Adams continued, "They love this country and they want to feel safe in this country."
Before Gatlin took the podium, an 11-year-old athlete said, "Thank you Justin for always inspiring us."
The 34-year-old athlete is truly looking to make the ultimate comeback. After Gatlin took home the gold in 2004, doping scandals upset his career and he was banned twice after he tested positive for banned substances. In 2001, in defense, Gatlin told The Guardian, "Last time I checked, someone who takes medication for a disorder is not a doper. Other people in the sport have taken the same medication I had for ADD and only got warnings. I didn't."
Gatlin did not beat the famous Usain Bolt, but came in a close second behind him in the World Championships in Beijing, China. The sprinter was considered the only runner who could possibly dethrone the Jamaican champion.
When Gatlin took the stage he said, "Create your own goals. Let your moment go on forever and don't forget to give back."