Wasserman Schultz resigning as party leader
Jeff Zeleny, Eric Bradner and John King, CNN | 7/24/2016, 7:15 p.m.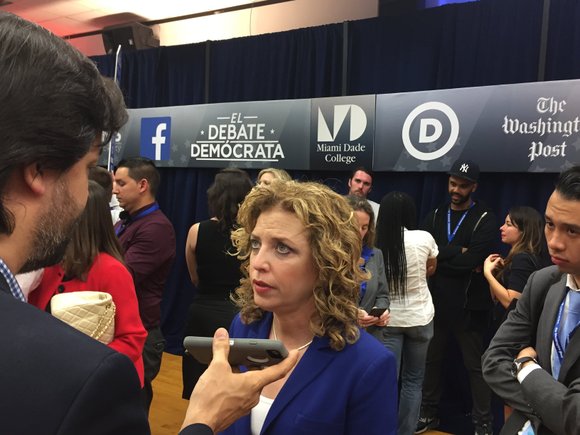 (CNN) -- Debbie Wasserman Schultz announced Sunday she is stepping down as chairwoman of the Democratic National Committee at the end of the party's convention, which is set to begin here Monday.
The Florida congresswoman's resignation -- under heavy pressure from top Democrats -- comes amid the release of thousand of leaked emails showing DNC staffers favoring Hillary Clinton over Bernie Sanders in the party's 2016 primary contest.
Her announcement that she was leaving had pro-Sanders supporters cheering during a demonstration in Philadelphia and Donald Trump and other Republicans crowing about the disarray among the Democrats.
Wasserman Schultz talked with both President Barack Obama and Clinton before making her announcement, a Democratic source said.
"Going forward, the best way for me to accomplish those goals [which include electing Clinton president] is to step down as Party Chair at the end of this convention," Wasserman Schultz said in the statement.
"As Party Chair, this week I will open and close the Convention and I will address our delegates about the stakes involved in this election not only for Democrats, but for all Americans," she continued.
She may briefly address the delegates Monday for a few minutes, a scenario to which the Clinton and Sanders campaigns have tentatively agreed, sources said.
Wasserman Schultz had faced intense pressure over the weekend to quit her post, several Democratic leaders told CNN, urging her to quell a growing controversy threatening to disrupt Clinton's nominating convention.
Senate Democratic leader Harry Reid wanted her out even before the leaked DNC emails scandal broke and House Minority Leader Nancy Pelosi wouldn't lift a finger to try and save her House colleague, sources said.
Sanders issued a statement calling for a new direction for the party that would welcome the working class and young voters -- and remain neutral in future Democratic primary contests.
"Debbie Wasserman Schultz has made the right decision for the future of the Democratic Party," Sanders said.
"While she deserves thanks for her years of service, the party now needs new leadership that will open the doors of the party and welcome in working people and young people," he added. "The party leadership must also always remain impartial in the presidential nominating process, something which did not occur in the 2016 race."
DNC Vice Chair Donna Brazile will serve as interim chair through the election, it was announced Sunday. She had been a CNN political commentator, but CNN and Brazile have mutually agreed to suspend their contract, effective immediately, although she will remain on air during the convention week in an unpaid capacity, CNN said. CNN will revisit the contract once Brazile concludes her role.
Separately, a Democratic operative said Hispanic leaders close to Clinton and her high command were discussing Housing Secretary Julian Castro as a possible successor to Wasserman Schultz at the DNC helm, among a number of other candidates whose name are being mentioned.
Chants of "Debbie is done!" and "Debbie resigned!" broke out at a pro-Sanders rally in Philadelphia after the news was announced.