Have car, will travel, Part 2
Otis R. Taylor Jr. | 7/28/2016, 10:15 a.m.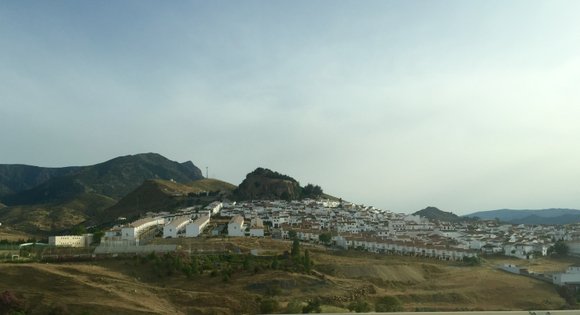 This article is the second of a two-part series on driving in a foreign country.
The white hill towns—pueblos blancos—in the Andalusia region of southern Spain gracefully sprout from the surrounding terrain.
Strategically carved into hills and mountains and once used as positions of fortification for whichever side—Christians or Moors—was in control of the area, the villages, with their whitewashed walls and roofs tiled a reddish-brown, now summon travelers.
Because the villages are miles away from the larger cities, tours don't frequently travel to them. You have to drive. But you get to see much more of a country when you transport yourself. There's no departure schedule and no tour guide herding you on and off buses. Sure, gas station attendants might look at you curiously, but the country will dictate where you need to be. My travel partner and I spent time in more than 20 cities. Here are my 10 favorite.
MADRID
My first and only group tour in Spain was led through stifling streets by a swashbuckling tour guide, who frequently stabbed with his hand as if he held a sword. The history of the Spanish monarchy—invasions, uprisings, liberations, artistic responses, kingdom-unifying nuptials, incestuous lineage—was messy. I skipped the second part of the tour so I could wander through Buen Retiro Park. It is filled with sculptures, monuments and avenues of trees. The plentiful shade is where locals go to escape the heat, because it is too hot to stay indoors.
My only private tour in Spain was led by a historian who took us through the Palacio Real de Madrid, the official residence of the Spanish royal family that is only used for state ceremonies. The painted ceilings, decorative rugs, tapestries and furniture were intricately detailed. Especially riveting was the display of royal armory that dates back to the 13th century and the collection of priceless Stradivarius violins, violas and cellos. We also toured the Prado Museum, where I spent an hour in front of "Untitled (Green on Maroon)," Mark Rothko's shadowy, floating rectangular fields.
Madrid was my favorite city. We had planned to stay for only three nights, but we decided to stay a fourth when we nabbed tickets to see electronic DJ Nicolas Jaar at Mondo. The decision allowed us to go to the Renia Sofia.
TOLEDO
We were there for the Corpus Christi festival, which is held the ninth week after Easter. The streets were congested with people seeking a glimpse of the Custodia de Enrique de Arfe, an early 16th century work of art made from gold, silver, pearls and other precious gems that is paraded through the streets from the Primate Cathedral of Saint Mary of Toledo. Toledo comprises a labyrinth of narrow streets that climb, dip and turn, making it easy to lose bearings—and easy to find adventure.
CONSUEGRA
If you're over 30, you probably had to read "Don Quixote de La Mancha" in high school. The windmills of La Mancha were captivatingly described by the author, Miguel de Cervantes, even if he was making fun of the region. The wind zipped through our clothes as we stood atop the hills overlooking plains.