IDNYC brings security and incentive to area residents
Zaria Howell | 7/28/2016, 9:46 a.m.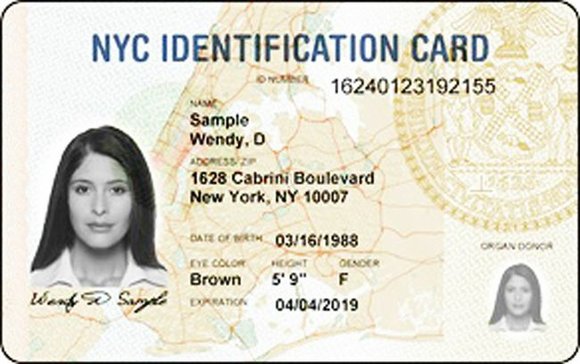 IDNYC is a free form of identification for New York residents, an idea developed by Mayor Bill de Blasio and City Council Speaker Melissa Mark-Viverito. IDNYC is for a wide range of individuals, including immigrants, who otherwise would not have access to identification. Undocumented people can also apply, as no information regarding immigration status is required during the application process. Other groups able to benefit from this program are senior citizens, teenagers and formerly incarcerated persons.
Twenty percent of households in central Harlem are "unbanked," and have no affiliation with any bank institutions. Fortunately, IDNYC is an accepted form of identification at 12 financial institutions in the greater New York City area. Thus, individuals who seek financial stability or a bank account can now have either, thanks to IDNYC. Aside from access to banking opportunities, IDNYC also provides New Yorkers with discounts on groceries and medicine and free one-year memberships to many of New York's famous museums and zoos.
New Yorkers who are interested in applying and obtaining identification can call 311 or visit www.nyc.gov/idnyc, a website with free interpretation and translation capabilities for those who are unable to speak or understand English. For New Yorkers residing in Harlem (or people who want to visit the area), there is an IDNYC pop-up shop, located at Carver Federal Savings Bank on 125th Street, that operates during the day from 8:30 a.m. to 5:30 p.m. The pop-up shop will be there until July 29.
When asked about the significance of IDNYC and how it is expected to improve lives, an official from the mayor's office of immigrant affairs shared, "New York City has always been a city of immigrants, and we are all safer when everyone feels like they are a part of the community. In order to ensure that all New Yorkers have the chance to lead full and productive lives in NYC, including the nearly 40 percent (3 million out of 8 million) of New Yorkers who are foreign-born, Mayor de Blasio began the municipal ID program in January 2015. As a free form of ID, IDNYC has a variety of unique benefits that are of special value to all New Yorkers. Countless New Yorkers can receive discounts on prescription drugs, groceries, visit a public library and open a bank account for the first time. IDNYC cardholders have access to year-long free memberships at a host of cultural institutions across the city. These are [some] of the many reasons why one out of 10 city residents already has an IDNYC. Developed with the NYPD, IDNYC is also accepted by the police as proof of identity. When neighbors have a valid form of identification, they are more likely to report crimes in their neighborhoods and help police officers during investigations. In sum, IDNYC increases security and safety for all New Yorkers."