Jazzmobile, Blanchard, SummerStage, Dr. Taylor
Ron Scott | 7/28/2016, 10:03 a.m.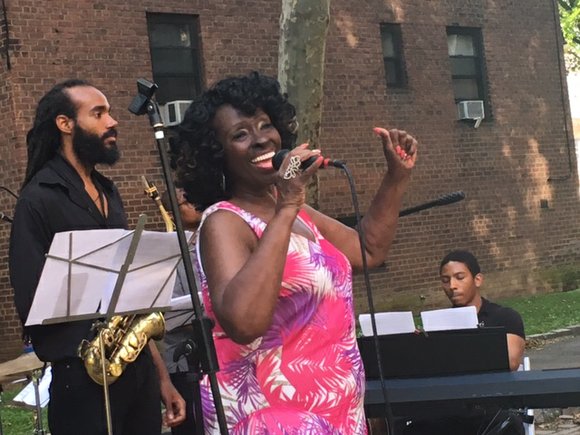 Blazing sun rays are in full force, radiating this summer's first heatwave as jazz fans lie peacefully in wait for early evening to make their way to Jazzmobile.
Fridays, Jazzmobile swings at Marcus Garvey Park (124th Street and Mt. Morris Park West). July 29, 7 p.m.-8 p.m., the first lady of Jamaica jazz, vocalist Myrna Hague will perform.
Hague and her husband, trumpeter/bandleader Sonny Bradshaw (now deceased), founded the Ocho Rios Jazz Festival in 1991.
In October 2015, she received a doctorate in cultural studies from the University of the West Indies, her dissertation examining jazz in the Caribbean.
She is known for her love songs, but swinging is a happy option she welcomes. She will be joined by Harlem's own tenor saxophonist, Patience Higgins.

Aug. 3, the trumpeter/composer Jeremy Pelt performs at Grant's Tomb (122nd Street and Riverside Drive). He is a straight-ahead musician who burns in the tradition of no chaser, just good music.
Aug. 5, the last of the true beboppers, jazz elder pianist/composer Barry Harris, will honor the Mt. Morris Park stage. His classic jazz style follows the flow of Charlie Parker, Dizzy Gillespie, Bud Powell, Thelonious Monk and Coleman Hawkins.
As a native of Detroit, Harris worked with Miles Davis, Sonny Stitt and Thad Jones. Between 1965 and 1969, Harris often performed with Coleman Hawkins at the Village Vanguard. During the 1970s, he lived with Monk at the Weehawken, N.J., home of the jazz patroness, Baroness Pannonica de Koenigswarter.
He will be joined by the Voices, a choir that he founded and continues to instruct on a regular basis.
Shows are 7 p.m. to 8:30 p.m. For a complete schedule visit the website jazzmobile.org.
SummerStage, another free outdoor festival, is celebrating the jazz centennial this season with its largest jazz lineup to date. Aug. 5, one of its most significant performances will feature trumpeter, composer and arranger Terence Blanchard, with his new quintet, E-Collective.
They will be performing Blanchard's latest record, "Breathless" (Blue Note Records), which was written in response to social tensions and inspired by Eric Garner's resounding last words: "I Can't Breathe." The performance takes place in Staten Island at Cloves Lakes Park.
It is significant this concert is taking place in Staten Island, where Garner lost his life at the hands of the NYPD.
Cuepoint, on the web publishing site, Medium, published Blanchard's essay, "Using Music to Underscore Three Words: I Can't Breathe," which details Blanchard's revulsion at the death of Garner and how the subsequent "I Can't Breathe" campaign inspired the series of songs the E-Collective created for the album.
With E-Collective, Blanchard interacts with the fused genres of funk, R&B and blues. The album is a musical statement of activism the title references. The words "I can't breathe" have echoed across the country in protest of police brutality and discrimination.
The E-Collective includes guitarist Charles Altura, pianist Fabian Almazan, bassist Donald Ramsey and drummer Oscar Seaton. The adventurous 13-track recording has several Blanchard originals and covers, sung by vocalist PJ Morton (a member of Maroon 5), including a restructured take on the jazz funk composition "Compared to What," by Les McCann and Eddie Harris. Blanchard's son, T. Oliver Blanchard Jr., aka JRei Oliver, contributed his song "Shutting Down" and spoken-word excerpts on others.